Golden Opportunity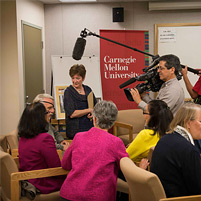 Pittsburgh's version of "The Golden Girls" will appear on NBC's "Today" show, featuring members of the Osher Lifelong Learning Institute at Carnegie Mellon University.

Karen Bush, Louise Machinist, and Jean McQuillin — study leaders for the Osher at CMU course "Shared Living Models: Intentional Community Comes to the 'Burgh" — will be featured on "Life Reimagined," a monthly segment hosted by AARP's "Today" show contributor, Jane Pauley, between 8:30 and 9 a.m., Tuesday, Nov. 26. The segment highlights people older than age 50 who are trying new things such as making a career switch, learning new skills or changing their lifestyles.

"Our experiences segued into 'encore careers' for us. We began writing, publishing and speaking about the beauties and economies of living, independently but interdependently, in community," Bush said.

The women created their website My House Our House and published a book by the same name in June. They first taught their Osher course in 2012 and offered it again this fall along with Stephani Danes of the Pittsburgh Cohousing Group and Maria Piantanida of the Borland Green community in East Liberty.

"The Shared Living Models course has proven to be a wonderful addition to our curriculum, as it provides fodder for stimulating conversation and serious consideration of a potential lifestyle in one's retirement years," Osher Registrar/Manager Lyn Decker said.

CMU has supported Osher, formerly the Academy for Lifelong Learning, since its charter in 1992. The institute offers low-cost educational opportunities for adults typically in their 50s to 90s. About 150 classes on subjects ranging from politics to cooking and astronomy are offered.

"The university is enormously generous to Osher at CMU. More than 25 faculty and staff have served as study leaders in just the past two years. Also, CMU provides our organization a learning environment in classrooms, lecture halls, office space, library support and much more," said Dean of Libraries Emerita Gloriana St. Clair, who serves as the organization's university liaison and secretary of its board of directors.

CMU students and faculty routinely invite Osher members to participate in research projects, particularly on topics related to aging and quality of life.

"Our members demonstrate the importance of lifelong learning to CMU students and provide them with an audience for their research and projects," Decker said.

Osher at CMU is part of a network of more than 120 adult lifelong learning programs that the Massachusetts-based Bernard Osher Foundation supports. Other host sites include the University of Pittsburgh, the Pennsylvania State University, Johns Hopkins University, Duke University, Dartmouth College and the University of California, Berkeley.


Photo: Jean McQuillin (center, standing) and Karen Bush (center, kneeling), study leaders for the Osher Lifelong Learning Institute at CMU, interact with students during the filming of the "Today" show's "Life Reimagined" segment.
Related Links: Osher Lifelong Learning Institute | My House Our House | Watch Video on today.com
---