Cooking Up Solutions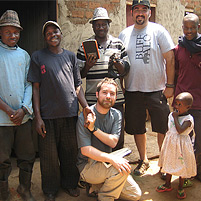 Before returning to the United States, Michael Taylor, kneeling, and Joshua Schapiro (standing, second from right), check on a family in Uganda. The family was using the device they developed to remove indoor air pollution from their hut.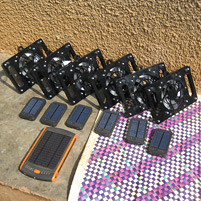 The device, which combines fans with lights, was developed by Taylor and Schapiro, are ready to be installed in huts.
The World Health Organization estimates that between 1.5 and 2 million premature deaths each year can be attributed to indoor air pollution, with most deaths occurring in developing countries due to cooking indoors over open fires with solid fuel.
Michael Taylor, a Ph.D. candidate in Carnegie Mellon's Robotics Institute (RI) traveled to a community in Uganda to get a firsthand look at the problem.
"When you tell people indoor air pollution is a big problem in Central Africa, the typical response you get is, 'well, why don't they open a window?'" Taylor said. "It's one of those things where opening a window sounds like a good idea. So if they're not doing it, there must be a good reason."
Taylor found that most of the huts in the community didn't have a window. If they did have a window, it remained shut to keep out mosquitos, other insects or rain.
"And the people were cooking in such low light situations that they tended to be hunkered down over their pots. So, even where smoke was being blown out through the roof, it still had to pass through them first," he said.
A solution arose out of Toyota's "Ideas for Good" contest during which everyday people were challenged with thinking of ways to repurpose Toyota's automotive technology for contributing something beneficial to the world. Five winning ideas were selected to be prototyped at CMU, including the solar-powered fan Taylor was working on to remove pollution from huts like the ones in Uganda.
"We wanted to encourage the people we visited to keep the fan close to their fuel source," Taylor said. "So we actually added LED lights to the device because we knew they would find the light useful."
Joshua Schapiro, a research associate in the RI's CREATE Lab, said the team underestimated just how beneficial bringing that small bit of light into kitchens would be.
"A lot of the time, they're trying to illuminate their cooking with oil lamps and candles and things," Schapiro said. "So they'll drip paraffin into their food, which makes it taste awful but they have to eat it anyway because that's what they have."
The lights on the fan eliminate the need for candles and oil lamps near the food being prepared.
"We certainly wouldn't have come up with that important aspect of the solution if it wasn't for first going there and seeing to understand," Schapiro said.
Jude Tamale, an administrator for the organization who connected CMU researchers with the Ugandan community, said, "The Create Lab Uganda Project has been so useful to our people. The smoke reduction in the kitchen saves them from smoke effects on their health. And with the solar light the children can now even review their schoolbooks from the kitchen. A device like this would mean that families could also save on expenditure for paraffin and kerosene. Everyone wishes to have it in their families. This is a wonderful project which should be expanded to the entire district if possible."
Taylor said a lot of interesting projects exist in this area, but many tend to fail because of the way the developers tend to view these projects.
"Our prototype was successful because we took an interest in caring about the people and we made the time to learn about how and why they do things the way they do," Schapiro said. "We didn't just design our own product and tell them to use it."
Taylor said he hopes others see their project and are inspired to make a similar impact. The CREATE Lab, aimed at empowering communities with technology, is directed by Robotics Professor Illah Nourbakhsh.
"Our partnership is an outstanding example of social investment and university research teaming up to identify authentic problems faced by the developing world, then work with local communities to understand how technology may empower them to improve conditions," Nourbakhsh said.
"In this case the nutritional impact, social circumstances and air quality surrounding cooking are all important aspects of how meals are prepared and eaten in households in central Uganda, and we are endeavoring to work all together — CREATE Lab, Toyota and Bukomansimbi's residents — to find a sustainable and scalable solution that does not impose Western values upon an ancient culture that has great success living off the earth with a light footprint."
Related Links: School of Computer Science | Robotics Institute | CREATE Lab | KYEMPAPU | CMU and Toyota: Innovation Through Collaboration | Ideas for Good | News Brief: Turning Ideas Into Reality
---