Innovating for a Cure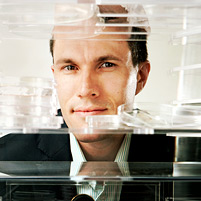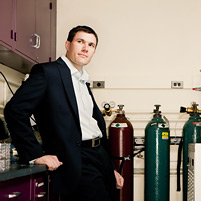 Chris Bettinger
Stephen Kustra (E'12) and his lab mates at Carnegie Mellon University are focused and working hard every day to uncover new information about cancer cells.

Motivating them with his own "go-getter" attitude is Christopher Bettinger, an award-winning assistant professor in CMU's Materials Science and Engineering and Biomedical Engineering departments.

"Christopher is a great mentor and leader. He has started up innovative projects with me and my lab peers," said Kustra.

Kustra's project analyzes cytoskeletal dynamics of cancer cells through the use of systems with dynamic surface topographies.

He hopes this work will help future research in discovering the effect of changes in cell-substrate interaction on cell morphology, specifically cancer cells.

"Christopher encourages us to start our research and turn it into our own project so that we get excited about our work and keep digging and experimenting and uncovering new information that has never been seen before," Kustra said.

Bettinger is the recipient of the prestigious National Academy of Sciences (NAS) Award for Initiatives in Research for his innovative work on advanced materials for next-generation implanted medical devices.

Supported by Alcatel-Lucent Bell Labs, the NAS Award for Initiatives in Research recognizes "innovative young scientists and encourages research likely to lead toward new capabilities for human benefit."

The NAS Award is just one of many accolades for Bettinger. Last year, he was selected a member of the TR Class of 2011 by a panel of expert judges and the editorial staff of Technology Review for his pioneering work in materials science and biomedical engineering.

"No matter how busy Christopher is, he will answer calls, texts and emails day or night, and will always take time to make sure we understand the fundamental principles that underlie the science of our research," Kustra said.

Bettinger has worked at the interface of materials science and biomedical engineering for more than 10 years. He has conceived and produced a number of innovations that aim to better integrate medical devices with the human body.

These technologies include new synthetic materials that mimic the natural properties of soft tissue and biodegradable electronics that could usher in a new era of electronically active implants.

His work is designed to lead to broader advances in the field of medical devices to reduce the burden of human disease and improve quality of life.

Bettinger will receive his award, which comes with a $15,000 prize, April 30 at the NAS' 149th annual meeting in Washington, D.C.

Twelve faculty and alumni from CMU are NAS members. Additionally, we have 41 National Academy of Engineering members, our most recent of which is CMU President Jared L. Cohon. CMU representation in both of these societies spans six out of seven of our schools and colleges.
Related Links: Read the press release | Top Innovator | TR 35 | College of Engineering
---