Elizabeth's Canvas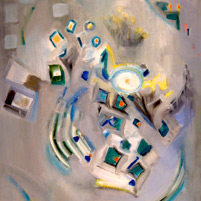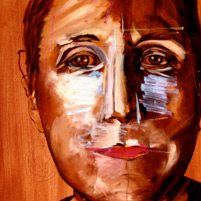 Paintings by Elizabeth Perry
Elizabeth Perry has survived breast cancer twice. Her son, Carnegie Mellon alum John-David, believes the critical turning point in her battle came when she began taking an art class.

"She fell in love with the creative process. It completely changed her outlook," he said.
Inspired by her recovery, he created a non-profit that builds creative communities for other survivors to renew, refresh and reconnect.

Elizabeth's Canvas provides cancer patients, survivors, and their family members  with free classes in art, photography, dance, and writing.

"When my mom was being treated, she went into a shell. It was hard on me and my dad. A fellow patient saw it and said to her, 'You're coming with me to an art class.'  She fell in love with the creative process. It allowed her to escape, to communicate, to express herself. Her outlook turned around. It might not have been the sole reason she made it, but it made a tremendous difference in her recovery."

Most hospitals have art therapy but there are very few of those services outside of the hospitals, and even fewer designed around creativity, he says.

"We created Elizabeth's Canvas to supply this particular population with great creative classes. The teachers are all well-respected in their professions. And when people come to the classes, it's about learning something fun."

He added, "They begin to share their experiences and then they bond. You'll get two people talking about a painting one minute, and then the next minute they're sharing suggestions on which socks are best for the sore feet that sometimes follow chemotherapy."

Offered currently in Los Angeles and New York City, the maximum class size is 12. With little to no marketing, they've consistently filled all of the classes offered.

Classes meet once a week for five consecutive weeks and are held outside of the hospital. Family members wishing to share the experience with their loved one are welcome to participate. Each class is 90 minutes long and completely free of charge. Materials are provided.

"I am so honored to meet these people. They're so special, and they have such amazing stories," he said. 

John-David arrived at CMU through his undergraduate work at another university, where he met Heinz College professor Kristen Kurland.

"I came to campus for a visit and really liked what they were doing with technology as it pertains to community development and government," he said.

Now a graduate of Heinz College's School of Public Policy and Management, John-David says his CMU education armed him with the resources he needs to make Elizabeth's Canvas a success.

"I came to CMU to acquire the technical skills. And it's not necessarily that I became the best programmer there, but I was surrounded by the best programmers and I saw what was possible."

That vision has allowed him to design Elizabeth's Canvas around the best technology available, he says.

"I know what to look for in programmers and how to evaluate their work. I think that's one of the best things about CMU — being surrounded by such amazing and talented people. It allows you to manage and manage well. I knew the value of working across disciplines, bringing human-computer interaction, linguistics and computer engineering together."

He added, "At CMU, you can find the resources to make your idea become a reality. And when you leave there, you know what the best looks like and you won't settle for anything less."

John-David says everyone knows someone directly who's been affected by cancer.

"If we can take all those negative connections and make something positive out of it, we can help survivors to lead empowered lives."
Related Links: Elizabeth's Canvas Website | Elizabeth's Canvas Blog | MSPPM | Heinz College
---