Easy Does It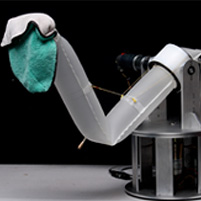 When you think 'robot,' you probably don't picture balloons. But Carnegie Mellon University's Siddharth Sanan is working to change that vision.
"Robots that are completely soft, such as those using inflatable elements, can be utilized for safe interactions with humans," explained Sanan, a Ph.D. candidate in the university's Robotics Institute.
Sanan has developed a first-of-its-kind robotic inflatable arm.
His work is especially intriguing as the boomer generation ages and the use of assistive robots is expected to increase.
Sanan is spearheading the project for Carnegie Mellon's Quality of Life Technology Center (QoLTC), which is run jointly with the University of Pittsburgh and supported by the National Science Foundation.
QoLTC researchers like Sanan are pioneering technology for helping older and disabled individuals live more independently.
Sanan's inflatable arm could assist in daily activities such as feeding, dressing and grooming.
"The project is motivated by the need to take care of people," said CMU's Christopher Atkeson, professor of robotics and Sanan's advisor.
"The concern with current robots is that they're dangerous," said Atkeson. "The question is how can we build a robot that's intrinsically safe."
He added, "We asked ourselves how we could minimize risk even if the computer inside the robot crashed. The answer was to make it soft."
Atkeson says the project team also included Michael Ornstein — a sophomore who demonstrated the project at the recent 2011 Consumer Electronics Show.
The trip was taken on behalf of QoLT Foundry — a group that helps bring the center's research to the marketplace.
Having joined the CMU faculty 11 years ago, Atkeson was drawn by the range of projects and people working at the Robotics Institute.
"The Robotics Institute is unique," he said, also noting the opportunities that exist for undergraduates like Ornstein. "The Robotics Institute at Carnegie Mellon is home to a lot of very interesting stuff that puts us way ahead of everybody else."
Atkeson who has been part of the QoLTC since its inception — and currently leads its Mobility and Manipulation (MoMAT) research thrust — is partially motivated by his experience with a grandfather suffering from ALS.
Sanan shares a similar personal connection to his work.
"Knowing that something I am doing right here might be used by my grandmother back in India — that is exciting," he said.
Related Links: Quality of Life Technology Center | Watch Videos: QoLT YouTube Channel | Robotics Institute
---