OnStar App Challenge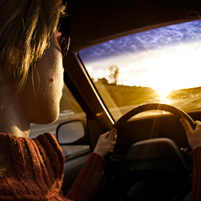 Their mission: keeping drivers safely connected on the road.
Now GM's OnStar is inviting students at Carnegie Mellon University to take a crack at designing the company's next vehicle voice-enabled app.
"This is a unique and rare opportunity for CMU students to enhance a technology that is both leading edge, yet already mainstream," said Jim Osborn, executive director and a co-founder of the Quality of Life Technology Center (QoLT).
He added, "OnStar's huge installed base means the students' results could benefit millions of people very soon."
Based on CMU's reputation for creative problem-solving in technology and business, the university is one of just five selected for the competition.
In the 2011 OnStar Student Developer Challenge, students will compete for prizes for the most original and compelling vehicle voice-enabled application using OnStar vehicle data.
They'll create their entries using OnStar's unique data model and the QuickFuse Voice Application building platform. Deadline for submissions: March 11 at 11:59 p.m. EST.
Guidelines for development?

The app should connect the driver to friends, other drivers, social networks and websites.

It should improve the driving experience by informing the driver of traffic flow, car maintenance issues and "green" use.

And if it helps the driver plan travel or increase productivity, that would be good, too.
Student-created apps will be judged on safety, minimal distraction, originality, integration, user experience and whether it's something people would want to use.
OnStar will select six semi-finalists, who will win an all-expenses-paid trip and a chance to win the Grand Prize at O'Reilly's Where 2.0 Conference.
Where 2.0 is recognized as the premiere showcase for trends and technologies in location-aware apps, platforms and hardware.
In related news, CMU's Ed Schlesinger will receive a $70,000 scholarship grant from the GM Foundation to support outstanding student research and studies at the university's top-ranked College of Engineering.
And students from CMU's Collaborative Lab recently got to meet top engineers responsible for the design of the Chevrolet Volt electric car.
Related Links: Learn More | QoLT | School of Computer Science
---