Brain & Behavior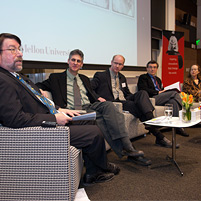 World-renowned Carnegie Mellon University scientists are making important discoveries in the area of brain and behavior.
These discoveries will help researchers to decipher and improve learning, perception and thinking.
It will also help them deal with aging or injured brains and treat and understand disorders such as autism, dyslexia and Alzheimer's.
If that's not enough, CMU scientists also are using this information to build computers that model the mind and can think on their own.
CMU has been a leader in the areas of brain science, psychology and learning research for decades.
With the launch of the university's new Brain, Mind & Learning initiative, CMU now plans to become an even bigger player in these fields.
To highlight CMU's dedication to excellence in brain research, a field that spans across its campus and disciplines, the university recently presented a panel discussion featuring:
Justine Cassell, director of the Human-Computer Interaction Institute, School of Computer Science;
Marcel Just, D.O. Hebb Professor of Psychology and director of the Center for Cognitive Brain Imaging and the Scientific Imaging and Brain Research Center;
Michael J. Tarr, George A. and Helen Dunham Cowan Professor of Cognitive Neuroscience and co-director of the Center for the Neural Basis of Cognition;
Nathan Urban, Dr. Frederick A. Schwertz Distinguished Professor of Life Sciences and head of the Department of Biological Sciences.
CMU Provost and Executive Vice President Mark Kamlet moderated the discussion.
Among the standing-room-only crowd was David Work (TPR'04).
"I'm here as a parent of an autistic child," said Work, an alumnus of CMU's Tepper School of Business. "My wife and I are always interested in exploring avenues that will show us how to challenge my son, and learn ways to open his mind so he is better able to interact with the people around him." 
Work added, "To hear the panel talk about their work is fascinating, and I would like to learn more."
The researchers revealed how bringing together neuroscientists, cognitive scientists, psychologists, computer scientists and learning researchers will shape the future of brain research and its applications.

Related Links: Tarr, Urban Receive Professorships | Brain, Mind & Learning at CMU | Solving Real-World Problems
---