Disaster Management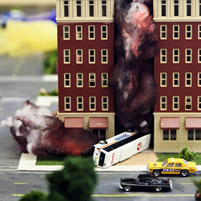 A three-dimensional mockup of a city was used in sessions over the weekend.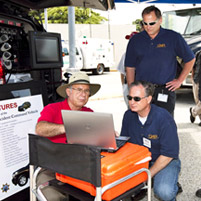 Hands-on demonstrations revealed the latest technologies for disaster communications.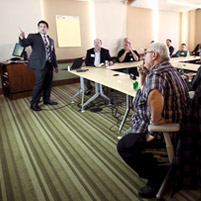 DMI Workshop attendees listen to one many lectures on best practices for disaster management.
More than 1 million people were displaced worldwide last year as a result of natural disasters and ill-equipped disaster management plans, according to recent reports.
In an effort to showcase and study best practices and the newest technologies for improving disaster communications, Carnegie Mellon University's Silicon Valley (CMUSV) campus recently co-hosted a Disaster Management Initiative workshop.
A cadre of firefighters, rescue workers and other emergency service operators attended the workshop in late May 2011, its second year.
"The workshop is designed to explore and unveil new technologies and processes for improving disaster communication worldwide," said Martin Griss, director of CMUSV.
"Recent events, such as earthquakes, terrorist attacks, hurricanes and power outages, have shown us that abrupt interruptions to our businesses and daily lives are not far away."
Specially designed rescue and emergency vehicles were on display during the two-day event.
An array of sophisticated self-powered satellite systems were also on display. They showed the importance of communications capabilities in remote areas where traditional communications infrastructure is unavailable.
Keynote speakers included Maj. General Scott Johnson, who shared personal reflections of his deployment in response to Hurricane Katrina.
He offered the difficult lessons learned and also discussed the specific role of the 40th Infantry Division of the California Army National Guard, of which he is Commander.
Steve Ray, a distinguished fellow at CMU, ran a "Plugfest" designed to measure the degree of interoperability among the emergency communications vehicles and with emergency operation centers.
Jeannie Stamberger, associate director of the DMI at CMUSV, discussed her work with various field agencies and first responders, which spans several continents.
From data mining to mapping and translation, Stamberger's team met the urgent needs of the Japan earthquake and tsunami victims earlier this year.
She and Ian Lane held a radio-to-text workshop to explore incorporation of audio radio transmissions into common operations pictures.

"I thought the event exceeded our expectations," said Griss. "Many people commented that bringing practitioners, companies, academics, vehicles and technology together for an intensive set of discussions, workshops, exercises and interoperability was a unique experience."
CMUSV, in conjunction with the California Fire Chiefs Association and the California Emergency Management Association, hosted the event.  The event was co-sponsored by the NASA Ames Research Center.
Related Links: About the Workshop | CMU Silicon Valley
---