Giving Sight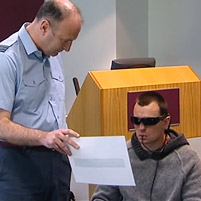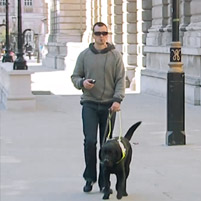 A user tests the BrainPort Vision Device outdoors.
Revolutionary technology from researchers at Carnegie Mellon University is helping the blind to see.
With the BrainPort Vision Device, users can perceive the approximate shape, size, location and motion of objects in their environment.
It's helping the blind achieve visual perception through the process of sensory substitution.
How does it work?
Visual information is collected from a video camera and translated into gentle, electrical stimulation patterns that are transmitted to the surface of the tongue.
With training, users can perceive gross shape, size, location, and motion of objects in their environment.
"We are now developing computer vision algorithms that can analyze the video to help people with their everyday cognitive functions," said Yaser Sheikh, assistant research professor in the Robotics Institute at CMU.
"Our goal is to provide the blind with active accessibility to their social environments using face detection and structure recovery algorithms."
Sheikh is a computer vision expert focused on understanding real-world scenes from cameras.
Sheikh's project aims to enhance the BrainPort with computer vision algorithms that will enable the improved perception of detailed scene information.
He explained that the visual impressions transmitted through the device can be blurry or vague. Sheikh says there is much to be learned about the sensory substitution process.
Under the terms of a  $3.2M grant partnership with Wicab, Inc. — the Wisconsin-based maker of the BrainPort — Sheikh is leading efforts to modify  the device's existing algorithms and/or develop new algorithms  that will enhance a blind user's experience.
Wicab provides its hardware (the BrainPort Vision Device, the BrainPort Development Workstation, and the BrainPort API) and then integrates the CMU-developed software, as appropriate, for user testing.
Wicab presented its initial findings on the BrainPort device to the House Committee on Veterans Affairs in Washington, D.C., in May 2009.
In October 2010, the company received funding from the Defense Medical Research and Development Program to pursue improvements.
Additional collaborators on the project include UPMC and the Quality of Life Technology Center — a partnership of CMU and the University of Pittsburgh.
Amy Nau from the Department of Ophthalmology at the University of Pittsburgh Medical Center oversees human subject testing and outcomes assessments.
The QoLT Center finds tremendous symbiotic potential in the application of computer vision to aid low-vision and blind individuals.
"The algorithms used for the BrainPort will be broadly applicable to an array of artificial vision devices," explained CMU's Jim Osborn, executive director of the QoLT Center.
"Retinal implants that incorporate camera technology to capture a visual scene would be one application."

Related Links: QoLT Center | Robotics Institute
---