Sanna Gaspard Chosen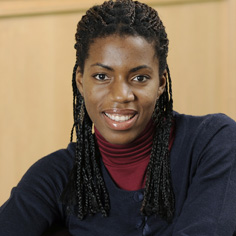 Carnegie Mellon University's Sanna Gaspard is working on a pediatric device to improve the overall health and survival rate of newborn babies — an innovative research path that was recently acknowledged when she was chosen as the 2010 Engineer's Week "New Face of Engineering."
"I was extremely excited about this accolade. I hope this award will encourage young engineers to explore the wealth of career options that exist for engineers ranging from entrepreneurship to field research," said Gaspard, a 28-year-old Ph.D. student in Carnegie Mellon's biomedical engineering program. "I also hope that this award will encourage young women to pursue careers in the transformational field of engineering."
To ensure that her pediatric technology will make it to hospitals and home nurseries where it could help infants, Gaspard founded a startup company called TLneoCare, LLC. Through TLneoCare, she is commercializing a new neonatal physiotherapy unit that is designed to soothe and improve the health of newborns.
    
"Gaspard is a truly dedicated biomedical engineering student with an entrepreneurial spirit committed to translating her bio-instrumentation research and development to society, where it has the potential to save lives," said Alessandro Ferrero, past president of the IEEE Instrumentation & Measurement Society and the award nominator.
    
To complete her studies at Carnegie Mellon, Gaspard is developing a diagnostic medical instrument for early pressure ulcer detection. Todd Przybycien, a professor of chemical and biomedical engineering at Carnegie Mellon and Gaspard's Ph.D. advisor, praised Gaspard's dedication.
"Sanna's unique mix of creativity, resourcefulness and drive coupled with her strong work ethic makes me think of her as the 'Energizer Bunny' of biomedical engineering — she is particularly good at knocking down obstacles in the way of her research goals," said Przybycien. "She is poised to have a great impact in the biomedical device community."
                    
A native of the Caribbean island of St. Lucia, Gaspard initially wanted to be a neonatologist, but she was uncomfortable working in a hospital environment. Her fascination with science and a natural drive to deconstruct objects as a child led her to pursue a graduate degree in biomedical engineering at Carnegie Mellon in 2004.
Gaspard plans to graduate with her doctorate in 2010. She is a member of the IEEE's Engineering in Medicine and Biology Society, IEEE's Instrumentation and Measurement Society and she founded the award-winning Graduate Biomedical Engineering Society at Carnegie Mellon.
The new "Faces of Engineering" recognition program is sponsored by the National Engineers Week Foundation, a coalition of engineering associates, major corporations and government agencies. The program highlights the vitality, diversity and rich contributions of engineers under age 30.
Related Links: National Engineers Week Foundation  |  Biomedical Engineering  |  Graduate Biomedical Engineering Society
---