Success through SAMS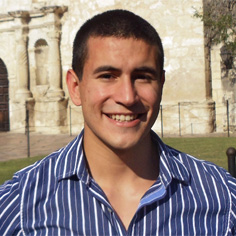 While Turi Alcoser (E'12) had never thought of attending a top-tier private institution such as Carnegie Mellon, an eagerness to know his potential inspired him to submit his application to the university's Summer Academy for Mathematics and Science (SAMS) program in 2007.
Now, on full-paid scholarship, Alcoser is a junior at Carnegie Mellon majoring in materials science and biomedical engineering. He's one of many SAMS students who develop the confidence to pursue careers in fields they previously thought were out of their reach.
"Dr. Amy Burkert was the person who really inspired me to pursue Carnegie Mellon after leaving SAMS," Alcoser said. "She was the best pre-health professions advisor I'd met, and at the time she had just served as President of the Northeast Association of Advisors for the Health Professions. Dr. Burkert always had a plan for me from the time I started at CMU, tailoring it to meet my changing career pursuits."
Alcoser added, "I think having the dual major in materials science and biomedical engineering will make me an exceptional candidate in the field of molecular and biomaterials engineering. My CMU education has allowed me to conduct some fascinating research projects."
Alcoser is conducting research on human cancer cells this summer in the College of Engineering, working in the lab of Prof. Kris Dahl. He plans to continue his studies in graduate school for biomedical engineering.
"Professor Dahl, who is my research mentor, has been a big inspiration for my goal of one day becoming a young and successful researcher in the field of biomedical engineering," Alcoser said.
Celebrating its 10th year, SAMS is designed to increase the number of outstanding college-bound students from diverse backgrounds who pursue education in science, technology, engineering and math (STEM) disciplines.
"We recruit students interested in science and math who are performing well academically, but not fulfilling their potential. We help good students become excellent students," said Ty Walton, director of SAMS and the Carnegie Mellon Advising Resource Center.
Admission to the program has become highly competitive. More than 730 rising high school juniors and seniors applied for 55 open spots in this year's program, which runs June 26-Aug. 6. An additional 15 students are returning to SAMS for a second year. Since its inception, more than 800 students from 41 states, the District of Columbia, Puerto Rico and the Virgin Islands have attended SAMS. The majority of participants are of black, Hispanic or Native American backgrounds.
There are no housing or dining fees for SAMS students, and there is no tuition thanks to internal, alumni, corporate and foundation support. Alumnus Russell Crockett (CIT '87) recently provided the program with a $50,000 endowed gift. This year's corporate and foundation supporters include Boeing Co., Cisco Systems Inc., Motorola, Siemens Foundation and Eden Hall Foundation.
"The aid from Carnegie Mellon has been a huge burden off my shoulders," Alcoser said. "It's one less worry among the academic workload and research that I've undertaken. My parents feel comfortable with me being so far away because they know Carnegie Mellon cares about my success and helping me every step of my college career. I'm very pleased with how much the university has helped me."
Related Links: SAMS  |  SAMS Videos  |  Amy Burkert: Ready to Serve  |  College of Engineering
---