Studying Mind, Brain & Behavior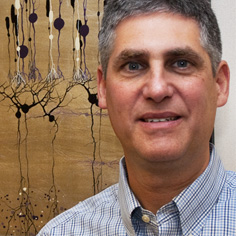 Scientists know that the brain is made up of vast numbers of neurons and that these neurons communicate with each other — but how does all this neural activity give rise to human thought?
It's a fundamental question that researchers are working to answer at Carnegie Mellon's Center for the Neural Basis of Cognition (CNBC).
"The study of the mind and brain is the last frontier in science. Although the field has made enormous progress over the past several decades, understanding of the basic principles of thought and brain function are still far more unknown than known," said Michael Tarr, co-director of the CNBC and the Cowan Professor of Cognitive Neuroscience. "Personally, I think that unraveling how the mind and brain work is a significant step in understanding what makes humans human."
The CNBC is a joint project of Carnegie Mellon and the University of Pittsburgh, integrating the strengths of Carnegie Mellon in computer science, biological sciences, electrical and computer engineering, psychology, and statistics, with the strengths of the University of Pittsburgh in basic and clinical neuroscience.
According to Tarr, understanding the mind, brain and behavior is an inherently multi-disciplinary endeavor — which makes him feel right at home.
"Having grown up around CMU, the idea was instilled in me that working across disciplines is both desirable and normal," he explained. "My career choices were definitely motivated by the degree to which different topics adhered to this ideal."
Dedicated to a multi-disciplinary, integrated approach, CNBC researchers university-wide use a variety of computational, neuro-imaging and behavioral methods in their work.
"For example, CNBC researchers are using machine learning models to uncover statistical regularities and patterns within the vast amounts of neuro-imaging data that we obtain from techniques such as fMRI, MEG, EEG, and multi-unit neurophysiology," Tarr said. "We are also using computational models to quantitatively test theories regarding both cognitive systems and brain function, as well as to simulate mental and neural processes."
Ultimately, they are interested in translating their research into practical applications, including the treatment of both congenital and acquired disorders.
The center sponsors an interdisciplinary graduate training program in collaboration with several affiliated Ph.D. programs. Its training program attracts outstanding students from around the world, and graduates have been highly successful in finding academic research positions.
Undergrads interested in this kind of work can also get involved.
"We have a significant number of undergraduates involved in research in CNBC laboratories. Many of these students go on to pursue Ph.D.s or medical degrees," he said. "We also have several summer programs open to undergraduates, including the NIH-ponsored Research Experience for Undergraduates in Computational Neuroscience. "
Tarr's expectation is that some time in the far-flung future, cognitive and neural scientists may be able to offer up a cogent account of the mind, brain and behavior.
"All I can hope is that my work will help contribute to this ultimate goal," he said. "In the interim, my aim is to train high-quality scientists, facilitate research that affords interesting discoveries, and hopefully have some fun throughout the process."
Related Links: Lab Link  |  CNBC  |  Psychology
---