Saving Lives Abroad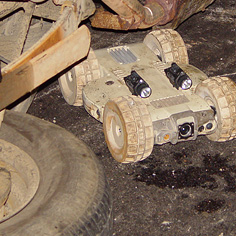 Popularity of the Academy Award-winning film The Hurt Locker has shined a spotlight on military troops who perform one of the most dangerous jobs in the world — disarming bombs in the heat of combat. A robot developed by Carnegie Mellon University researchers has not only made this job easier, it is saving countless lives.
Dragon Runner is a 20-pound "throwable" reconnaissance robot that was developed at the university's Robotics Institute (RI). It is the world's most durable military robot, according to the editors of the 2010 edition of Guinness Book of Records.
Hagen Schempf, principal systems scientist at Carnegie Mellon's Robotics Institute, led its development. Twelve prototypes, built by spin-off company Automatika Inc., were delivered to the U.S. Marines in 2004. Several models of Dragon Runner are now produced commercially by QinetiQ North America, which purchased Automatika in 2007. Hundreds of units have since been sold into explosives ordnance disposal duty in the Middle East.
"Dragon Runner is still being used in both Iraq and Afghanistan," Schempf said. "One use we know of has been for point-man reconnaissance in the streets of Fallujah — eyes and ears ahead of the troops. It has also been used for improvised explosive device (IED) procedures on roadways via remote tele-operated control."
Dragon Runner was developed as a low-cost rugged alternative to overly heavy, bulky, slow and costly robotic scouts already on the market. It pushed the technical state-of-the-art in the areas of drivetrain, vetronics, miniaturization and integration, as well as portability-integration, small desert-usable displays, and interface and materials and parts for low-cost assembly. The prototype consists of a vehicle, a small operator control system (OCS), and a simple ambidextrous handheld controller for one-handed operation, all held in a custom backpack.
The four-wheeled, all-wheel-drive robotic vehicle has high-speed capability and can also be operated with slow, deliberate, finite control. The system is easy to operate, requires little formal operator training and can be deployed from the pack in less than three seconds. On-board infrared capabilities enable night operation.
Schempf says that while Guinness is not a barometer of success necessarily, it sure speaks volumes about the true milestones that the invention has achieved.
"Not to mention, the lives it hopefully is saving abroad," Schempf said. "I can't help but feel proud of the achievement and the team that saw it through its early stages — and the people and corporate folks that believed in its potential."
Schempf says he was never driven to count his success only by the number of publications and patents. What really matters to him is seeing something go from inspiration to implementation.
"Having an invention make its way from a napkin to a catalog offering, with sales to customers that use it and come back for more, is for me true affirmation," he said. "It makes all the long hours and sweat worth it."
Related Links: School of Computer Science  |  Robotics Institute
---