New Hands-on Research Center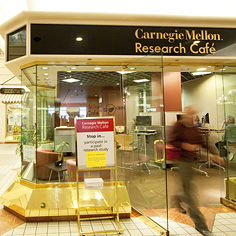 Choosing between the slice of pound cake or an apple? Carnegie Mellon researchers studying decision-making want to learn from you — and thanks to the new Carnegie Mellon Research Café, they can. The café is part coffee shop and part behavioral decision research lab, located in downtown Pittsburgh on the second level of Fifth Avenue Place.
Visitors earn money or gift cards for participating in studies on how we live and make decisions. Studies range from consumer spending and saving, health behaviors like dieting and smoking, and what causes happiness.
"This center is a fantastic opportunity for people to become involved in research who may otherwise have no opportunity to do so," said George Loewenstein, professor of economics and psychology at CMU. "For people who have never set foot on a college campus or who don't come anywhere near one in their everyday life, it can be difficult for them to know how they can get involved, or it may not even occur to them that they can."
Jessica Kopsic, a CMU researcher who works at the café, says participation is easy.
"There is always some type of research activity going on at the center, and most of it can be done while you're eating lunch or having a cup of coffee," she said. "Come visit us. We love visitors! There is always a staff member or student there to explain what projects we have and talk about the research we do and how they can learn more about it."
Kopsic says people will often come in only because they see a sign that says they can make some quick cash, and then they come out saying 'Hey, that was fun. So what was that study about, anyway?'
"Then we get to engage them in a conversation about what it is we do and how it relates to them," Kopsic said.
The Research Café is an initiative of Carnegie Mellon's Social and Decision Sciences Department and its Center for Behavioral Decision Research (CBDR). The center's research draws on a variety of disciplines, such as behavioral economics, history, marketing, neuroscience, organizational behavior, public policy and psychology.
Topics include trust and fairness; memory and decision making; how people decide to save or spend; how to reduce obesity; public health issues like diet, exercise and smoking; privacy; perceptions of inflation; managerial decision making; and dynamic decision processes.
Loewenstein, who is on the CBDR steering committee, says their research is inherently more accessible than, for example, a hard science like physics or chemistry or even medical research.
"Everyone has had to deal with the types of issues we research — like why people eat unhealthy foods and how to help people to save more for retirement, or what makes us happy or trust others," he said. "As a social sciences department, people are our research. Without them we simply couldn't continue."
Related Links: Research Café Studies  |  Buyer Beware (from Carnegie Mellon Today)  |  CBDR  |  Social & Decision Sciences
---