'WiseDame' a Hack for Safety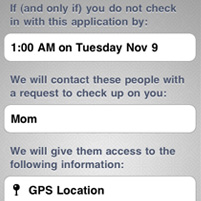 J'aime Ohm entered the contest on a whim. Twenty-four sleepless hours later, she'd beaten 450 others to win September's TechCrunch Disrupt Hackathon.
The marathon hack was held during TechCrunch's popular bi-annual web innovation conference. Ohm (E'10) was accompanying fellow alum Frank Denbow (CS'08), who informed her she'd gain free admission by competing.
Tempted, Ohm took a look and thought it could be fun.
"I'd been thirsting for some developer collaboration like at CMU, when you have people around you 24/7 and can say, 'Hey, I'm working on this,' or 'What do you think of that?' — which is amazing."
One of few women in her field, Ohm recognized an unfulfilled need — a simple, reliable way to improve personal security, particularly for women. She created the beginnings of WiseDame — an iPhone app with capabilities to alert loved ones of your whereabouts when you can't.
"Yes, there are some safety apps. Most developers, though, don't think about physical safety because most developers are men. It is a daily concern for women. I am tapping into some functionalities that others haven't tapped into."
WiseDame was so well-received that Ohm has indefinitely postponed her job interviews to strike out as an entrepreneur. She's developing her app for commercial availability and hopes to have it ready for consumers sometime next year.
It's exciting, especially for someone who graduated just months ago. While at CMU, Ohm chose to pursue a degree in electrical and computer engineering (ECE).
"I wanted to do something that applied my interests in math, the sciences and computers, and to understand systems from top to bottom," she explained. "I felt that ECE would give me both hardware and software understanding — an overview of the whole stack. I was right — ECE gave me that."
Ohm was active in both the Society of Women Engineers and Women in ECE, and is grateful for the help of her boss in the lab, Rick Burgett, an ECE staff member who provided unfailing help and advice.
She also discovered an unforgettable community of support and friendship.
"CMU provides an amazing community of developers. Materials engineers. Hardware and software engineers. Chemical engineers. I miss that a lot."

Related Links: Watch Video on TechCrunch | WiseDameApp.com | College of Engineering
---