The History of Change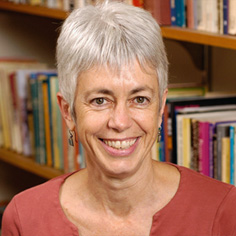 As a grad student, Caroline Acker walked the streets of California with a friend and a backpack full of syringes. She knew a needle-exchange program for drug users was a way to prevent disease but none existed, so she started her own. Nearly two decades later, it's still going strong.
When Carnegie Mellon advertised a position in its Department of History for someone interested in health policy, Acker packed her bags and headed for Pittsburgh. Upon her arrival in 1994, she started the first needle-exchange program in the region, co-founding Prevention Point Pittsburgh.
"Needle exchange really turns out to be an important source of referrals for drug treatment," explained Acker, an associate history professor and author of Creating the American Junkie, which examines the lives of drug users in the 1910s and 1920s.
As early as grad school, Acker knew she wanted to teach college students in a context that would blend her love of history and strong interest in policy.
"The study of history is important because it broadens our understanding of the human experience and of how individuals, social groups and governments have confronted challenges, and sought to solve problems," she explained. "I want students to have a critical context for examining the meanings of their actions in the world. I also see policy as a context for trying to change the world, to make it a better place."
Over the years, many of her students have volunteered with Prevention Point Pittsburgh and some have planned careers in public health in part as a result of their work with organization.
"We began as an underground program with no money and a few volunteers," said Acker. "It took a lot of work not just to sustain the program and help it grow, but to persuade local officials to legalize needle exchange in Allegheny County as an essential public health activity."
Today, Acker's efforts have garnered her the 2008 Benjamin Rush Individual Public Health Award from the Allegheny County Medical Society.
"It feels like a great milestone for Prevention Point Pittsburgh," she said. "To receive this award was personally very gratifying, of course, but it's also a wonderful symbol that Prevention Point Pittsburgh is doing important work."
Acker adds that she has "fallen in love" with the city of Pittsburgh. "I love living here and I greatly appreciate having a teaching and research position that lets me combine history and policy work."
Related Links: Prevention Point Pittsburgh  |  Read Interview w/ Caroline [.pdf]  |  College of Humanities & Social Sciences
---