Student Team Tackles Challenge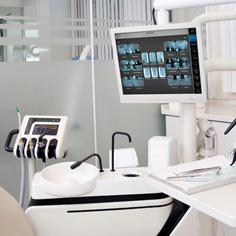 Dentists are accustomed to software that's clunky and focused heavily on administrative tasks. Carnegie Mellon students have developed a new prototype — called DMD — that's user-friendly and focused more on clinical needs.
"Most dental software in use today is centered on administrative functions, with clinical functions added as an afterthought. We found there needs to be a clear separation between the two," explained team member and usability expert Jaanus Kase (CS '08).
As a capstone project for the Master's in Human-Computer Interaction degree, four grad students — whose backgrounds include psychology, computer science and interaction design — spent five months visiting dental offices throughout the Pittsburgh area.
"We watched dentists be dentists," Kase said, underscoring how important it was to update the product regularly and constantly test each version with real-life users. "Good design means failing fast and getting feedback from users as frequently as possible."
Many current dental software packages use nonstandard window management and dialog interaction techniques that are confusing and error-prone for first-time users. Even dentists familiar with the Windows interface were confused by the many inconsistencies presented by the applications.
Among the team's observations: dentists were frustrated over a lack of standard icons and spatial or visual metaphors for many concepts commonly used in all dental software. So the students designed their own visual language and kept it consistent throughout DMD.
Another issue: dentists also became frustrated when they performed an action in their current software and wound up in what appeared to be a completely unrelated or unsuspected location in the program. In DMD, users know where they will end up before they perform an action.
The most visible clinical function in all dental software systems is the hard tissue chart. While DMD has the hard tissue chart, more functionality is focused on radiographs, which dentists rely on for diagnosing. For a brief overview of the DMD system, watch a quick video demo.
Kase noted that medical projects like DMD gave him the opportunity to combine a fairly traditional field with the latest technology breakthroughs and development methods that he and his team covered in the M-HCI program.
"It helped me learn more about myself and find my limits. Working under the guidance of world-class instructors, I discovered I was capable of more than I knew," he said.
An added bonus was that the team could work locally with Pitt's Center for Dental Informatics, which is part of their School of Dental Medicine. "That facilitated daily cooperation from a top research center, which was really helpful," he pointed out.
Kase said while the program was challenging and intense, he and his teammates — Sam Hashemi, Jackie Weber and Elliott Williams — still found time to socialize after working for long days, or on weekends.
"There are so many great venues in Pittsburgh, and we didn't even get to see them all. Now months after graduation, I am still in touch with many classmates who have gone out all over the U.S. and all over the world, and this program was truly a great time and built some long-lasting friendships."
Related Links: Watch Demo  |  DMDproject.com  |  HCII  |  School of Computer Science
---