Celebrating 40 Years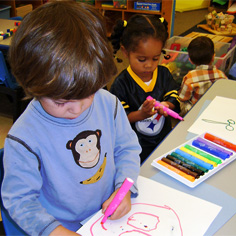 A child serves as the only witness to a crime. It's a delicate situation and how she's questioned by the police will affect not only her future but the fate of a suspect. Thanks to research by Carnegie Mellon's Children's School, there's an understanding of how to approach the child to get the most accurate information.
Since its founding in 1968, the school has given child development experts a one-of-a-kind research opportunity to learn new insights.
In the case of the child witness, Carnegie Mellon researchers have demonstrated that children's memories are influenced dramatically by the questions they are asked. Even when a child correctly states that a particular event did not occur, they often stated that it did occur when asked a week later.

For that reason, police are now guided to ask open-ended questions and record both questions asked and answers given during every interview with child witnesses.
Carnegie Mellon Professor Sharon Carver has served as the school's director for the last 15 years. But her connection to the Children's School began when she conducted research in the laboratory school as a Carnegie Mellon doctoral student.
   
"Laboratory school environments are uniquely designed to foster learning for children, their teachers and their families, while at the same time facilitating research and training the next generation of researchers, teachers and parents," Carver explained.
Children between the ages of 3 and 5 have received progressive instruction for four decades at Carnegie Mellon; but most days, exploration goes beyond the theme of the month. They work with young psychologists in exercises that challenge their thinking while, at the same time, give scientists a glimpse into their minds.
When parents enroll students in the Children's School, they provide full permission for their sons and daughters to participate in research studies that are approved by Carver and the Institutional Review Board. Research is carefully integrated into the ebb and flow of the day so that children learn and thrive in the environment at the same time breakthroughs occur for scientists.
The existence of the school — a part of the psychology department since 1971 — has allowed the university to sustain a world-class level of child development research.
Both researchers and classroom teachers regularly present at national psychology and education conferences. The school also hosts workshops for local teachers.
Related Links: Children's School  |  Dept of Psychology
---