Ask For It, Last Lecture Nominated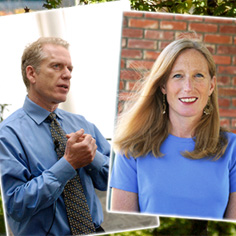 Students at Carnegie Mellon University will be the first to tell you they are inspired and motivated by the faculty here every day — both inside and outside the classroom. From the lectures that challenge them to think in a new direction to the difficult project assignment that brings out their hidden talents and abilities.
Accordingly, books written by two of our inspiring professors — Linda Babcock and the late Randy Pausch, also an alumnus — were nominated for a 2008 Books for a Better Life Award.
Babcock's Ask For It was nominated in the Motivational category and Pausch's The Last Lecture, co-written with alumnus Jeff Zaslow, was nominated — and won — in the Inspirational Memoir category.
The winners were announced Feb. 23 in New York City, at an awards ceremony hosted by NBC's Today co-anchor Meredith Vieira.
"It is really gratifying to get emails, letters and even presents from readers who say that the book has literally changed their lives," said Babcock. "Readers have also told me that they are teaching their daughters to negotiate, so hopefully the next generation of women will already know how to ask!"
Babcock is the James M. Walton Professor of Economics at Carnegie Mellon's Heinz College and founder and faculty director of the Program for Research and Outreach on Gender Equity in Society (PROGRESS). Her book Women Don't Ask was named by Fortune Magazine as one of the 75 smartest business books of all time.
A columnist for The Wall Street Journal, Zaslow (HS'80) attended Pausch's last lecture and penned a story for the WSJ that helped spark worldwide interest in it.
"Sitting in the second row at his last lecture, I knew I was seeing something incredibly special. But that day, it was impossible to imagine the impact Randy would have," Zaslow explained. "The book is now in 42 languages. And tens of thousands of miles from Carnegie Mellon, countless people are saying their lives are better because of what Randy taught them. That is his legacy."
The Books for a Better Life Awards, founded in 1996, have honored more than 400 self-improvement titles and raised more than $1.5 million for the New York Chapter of the Multiple Sclerosis Society.
Related Links: Buy Ask For It  |  Buy The Last Lecture  |  PROGRESS  |  Learn More About Randy's Last Lecture
---