Students Intern in Washington, D.C.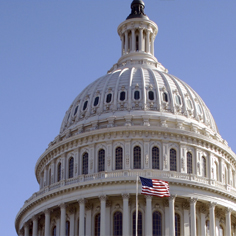 Nine Carnegie Mellon University students are interning in Washington, D.C., this summer as part of the university's Milton and Cynthia Friedman Internship Program. Grants of up to $3,000 were awarded to the students to support unpaid and underpaid policy-related internships in the nation's capital.
"I think it is important in today's global world and economy that the best and brightest young people, such as Carnegie Mellon students, have the opportunity to develop a solid understanding of the political process," said Cynthia Friedman, a Carnegie Mellon trustee. "These internships give them a chance to see Washington from the inside and cultivate the skills and connections they will need to have a real impact when they go out into the world."
Friedman endowed the internships in 1999 in memory of her husband, Milton (CIT '47,'49). The internships, available to students in all majors, are designed to foster significant work experiences that complement students' academic work and assist them as they make career and graduate education decisions.
Carnegie Mellon's Washington, D.C., Office of Government Relations plans events for the students, both social and professional, to enhance this 10-week summer experience. The interns will participate in a White House tour, a seminar at the Brookings Institute and meetings with Congressional staff.
"Washington, D.C., is the pulse point of our nation, and the opportunities afforded to the students through their internships this summer will not only be an invaluable experience to take back to their individual course of study, but also something they can use as a touchstone for their future careers," said Tim McNulty, associate vice president for Government Relations at Carnegie Mellon.
The 2009 Friedman interns include:
Jessica Dickson Goodman, a junior majoring in ethics, history and public policy with minors in computer science and vocal performance, intern at the World Organization for Human Rights;
David Levinson, a graduate student in public policy and management, intern at the office of Rep. Mike Doyle, D-Pa.;
Lindsey Reese, a senior majoring in economics and statistics with minors in mathematical science and psychology, intern at the U.S. Census Bureau;
Jordan Rosenfeld, a senior majoring in creative writing with minors in business and film studies, intern at the offices of Reps. Chris Van Hollen, D-Md., and Gary Ackerman, D-N.Y.;
Jonelle Saunders, a junior majoring in health policy, intern at the National Cancer Institute;
Hee Yeon Shin, a junior majoring in policy and management with a minor in professional writing, intern at AIDS research foundation amfAR;
Andrea Solomon, a junior majoring in ethics, history and public policy with a minor in psychology, intern at America Speaks;
Quinn Weisman, a junior majoring in biological sciences and psychology, intern at the office of Sen. John Kerry, D-Mass.; and
Carolina Velez, a senior majoring in decision science, intern at the Aspen Institute.
For more information on the Friedman Internship Program, contact Victoria Poprocky at 412-268-6697 or poprocky@andrew.cmu.edu.
Related Links: About the Program  |  Office of Government Relations
---