Equipping Physicians for the Future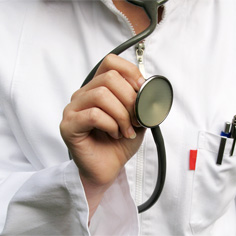 No matter how brilliant, earning a medical degree does not automatically make one a good business leader. In fact, surprisingly few doctors are ever pegged to run hospitals and healthcare systems.
According to the American College of Healthcare Executives, just 3 percent of the 5,765 CEOs at its member hospitals are doctors, and only 3 percent of the 4,706 CEOs of its acute-care hospitals are physicians.
But the H. John Heinz III College is doing its part to change that through its Master of Medical Management (MMM) program. Ranked fourth in the country for physician executives by Modern Healthcare magazine, the MMM program trains doctors to step into leadership roles at healthcare institutions by teaching them how to manage information, strategies, people and organizations.
"Our program is able to draw on the resources of the entire university community to educate physicians in areas critical for health care management, such as business plan development, conflict resolution, negotiation and strategy, and leadership," said David Dausey, who is senior director of healthcare programs and initiatives.
Dausey added that the program is extremely convenient for the practicing physician, blending onsite and distance components.
"Physicians can complete the program in only 18 months," he said. "The program is designed to be compatible with the busy work schedules and lifestyles of physicians."
Dausey noted that physician executives must motivate and manage people in ways that create and maintain organizational excellence. The sound strategies taught within the program are designed to ensure an organization's ability to carry out its mission and meet the needs of its stakeholders, clients and partners.
"Physician leaders who build a strong understanding of healthcare economics and finance, marketing, regulations and policy, competitive analysis and planning are better positioned to exercise effective strategic guidance for their organizations," Dausey said.
Additionally, information technology is increasingly affecting all levels of healthcare organizations — from patient care to administrative functions.
"Physician executives must understand that technology to fully exploit the opportunities for improving quality and decision-making," Dausey said. "Carnegie Mellon is known around the world for its expertise in information technology. Our program draws on those resources to offer students a cutting-edge knowledge of health information technology."
Related Links: About the Program  |  Heinz College
---