Advisor & Mentor Extraordinaire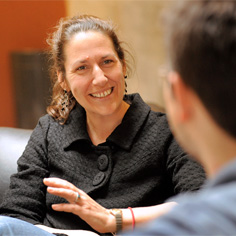 She's sometimes referred to as "Mother Therese." It's a fitting reference for Carnegie Mellon's compassionate Therese Tardio, an associate professor of Hispanic studies known as an exceptional teacher, advisor and mentor. She recently received this year's Academic Advising and Mentoring Award.
In a letter nominating her for the award, Katy McKinney-Bock (CMU'06) wrote, "As a student, I felt that she gave me unlimited time — I could hardly understand how, because whenever I came to her office for a meeting there was always a student there before me, finishing up their meeting, and there would always be another student afterwards."
She added, "Teaching is one of Professor Tardio's most natural qualities, and she has touched many people with her passion and talent."
Others wrote about the inspiration she provided them.
"It is through her dedication to students' development and success, and her innate desire to help others that Therese's students are inspired to challenge themselves not only to be their best, but also to reach outside their personal spheres and use their achievements and talents to help others succeed as well," said Mauren Antkowski (A'04). "This is what I believe should be the ultimate goal of a teacher."
Michael Gibbons (CMU'04) added, "Working with her as my thesis advisor was the most intellectually challenging and satisfying time of my life — and just as important, it was so much fun... Therese was an incredibly positive influence in my academic development. Every student should have someone like Therese as a mentor."
Tardio's impact extends far beyond the doors of the Modern Languages Department. She is active in many university programs and activities and students from many departments and disciplines seek her counsel.
In addition to Hispanic Studies students, she is involved with the Humanities Scholars Program, graduate students, residence hall representatives, fraternity and sorority members, the Spanish and Latin American Student Association, the Society for Hispanic Professional Engineers, student residents of the Global Studies House and students in the Alternative Break program, with whom she traveled to Nicaragua in 2008.
She also works with the Office of International Education and the Division of Student Affairs to help advise candidates seeking scholarships, fellowships and study abroad opportunities.
Professor Susan Polansky, head of the Modern Languages Department, echoes the students' praise.
"She has helped students travel the world and has served as a beacon for their academic, professional and personal journeys," said Polansky. "Therese is in every sense a total advisor, a marvelous model to emulate."
Related Links: Modern Languages  |  Office of International Education  |  Division of Student Affairs
---