Student Research Symposium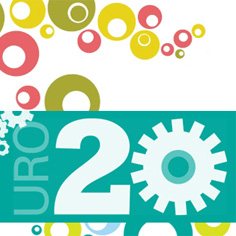 This fall, Alyx Kronstein will begin her pursuit of a Ph.D. in psychology from Carnegie Mellon. Her inspiration? A stroll through the university's annual research symposium known as Meeting of the Minds.
"I remember seeing people's posters and hearing their presentations at the event, and it made me want to become involved in research," explained Kronstein, who later expressed that desire to her psychology professor, Dr. Erik Thiessen.
Now, Kronstein is one of those presenters at Meeting of the Minds — at the Pittsburgh campus's University Center May 6, 10 a.m. to 5 p.m.
Fascinated by the study of learning, Kronstein hopes to one day understand why infants are better language learners than adults and how she can help adults become better second-language learners. Her research addresses the mechanisms underlying learning and how they may change or develop over time.
"To me, Meeting of the Minds is a fantastic opportunity to get undergraduates interested in and involved with research, in addition to providing them with a forum to practice presenting their work," Kronstein said. "It's such an exciting time to see everything that my classmates have been working on, as well as showing them my research."
Sponsored by the Office of Undergraduate Research (URO), the event hosts more than 400 students who present their research through posters, oral presentations, DVDs, live performances, demonstrations and art installations.
"Under one roof on one day at Carnegie Mellon, all of the disciplines come together and speak in their own languages and make their research accessible to colleagues, friends and visitors," said Stephanie Wallach, assistant vice provost for undergraduate education. "Meeting of the Minds is a celebration of the creativity that makes this place special every single day. It's the best place to understand the range of groundbreaking research taking place on this campus."
Wallach said it is a hallmark of URO that Meeting of the Minds brings together all the disciplines.
"Nothing really captures the mission of Carnegie Mellon better than research — and nothing better expresses the diverse ways our campus engages in research across the disciplines than Meeting of the Minds," Wallach said. "It is a unique Carnegie Mellon tradition."
Meeting of the Minds also includes senior thesis presenters and individual projects. And the research presented at the event includes students who have received funding through the URO's Small Undergraduate Research Grants (SURG) and through Summer Undergraduate Research Fellowships (SURF), which allow students to partake in full-time research over the summer. Learn more about ways to support students at Carnegie Mellon.
Related Links: Watch Video [.mov]  |  Meeting of the Minds Website  |  Undergraduate Research Office  |  An Early Start  |  Student Support
---