Alum Embarks on New Career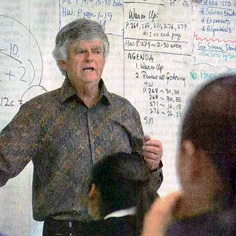 After spending more than 40 years in the field of electrical engineering, Carnegie Mellon alum Bob Geminder followed the advice he gives others his age, "Don't retire — rewire!" At 72, he earned his teaching credential and a master's degree, which has enabled him to teach high school students in California.
Geminder (E'57) was a young boy in Poland when he survived the Holocaust — an experience he regularly shares with youth learning about the tragedy in school. These interactions are what ultimately led him to realize teaching was his new calling.
Geminder believes students today — particularly Carnegie Mellon students — have the opportunity to be creative in whatever field they are specializing and lead our society in a new direction.
"Students must stay focused in view of all the real world problems. Learn and learn and do not falter," he said.
A graduate of what was then called Carnegie Tech, Geminder loved the fact that his electrical engineering class was only 24 students. "We were a very close-knit group. We knew each other very well, we helped each other and we worked together very well," he said.
Geminder noted that Carnegie Mellon students have a real advantage in today's struggling economy.
"Being a Carnegie Mellon graduate is a very positive criterion. People that interview Carnegie Mellon students for a job always raise their eyebrows when you tell them where you went to school."
Geminder tries to infuse a positive outlook in every situation. "The economy and life is up and down — just like a sine wave, for the engineering students," he said. "Do not be negative — move on and do the very best you can at Carnegie Mellon and things will definitely work out for the best for you."
Related Links: Bob's Personal Website  |  College of Engineering  |  Electrical & Computer Engineering
---