Teaching Kids a Healthy Lifestyle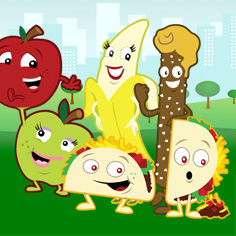 More kids are learning how to eat healthy thanks to Fitwits — a program created by Carnegie Mellon School of Design and UPMC's St. Margaret Family Health Centers.
Featuring fun characters such as Rita Rollup, Elvis Pretzley and Deep Dish Don, the Fitwits program is a series of learning games embedded with positive, educational health content about nutrition and physical activity for pre-adolescents.
According to Fitwits co-creator Kristin Hughes, associate professor in Carnegie Mellon's School of Design, the program is a holistic, preventative approach toward getting the community to talk about the health effects of obesity, nutrition, exercise, and portion size.
"I think the program begins to help people to talk about obesity and nutrition in a non-threatening way," said Hughes. "In a very entertaining way, it teaches what foods are high in sugar and fat, as well as the importance of exercising 60 minutes a day."
The program's innovative curriculum includes several interdependent settings for children and their families, divided into three specific phases:
Fitwits School Health Program for the classroom
Fitwits M.D., which uses office tools and games to help clinicians break down barriers and engage families in obesity prevention during well-child care visits
Fitwits Community Game, which works with local businesses that reward consumers for healthy choices
Hughes says the program has received rave reviews from parents. Adolescent players get to chose from two types of characters: Fitwits and Nitwits. Fitwits like Elvis Pretzley and Queen of Wheat teach kids about obesity and the importance of being active. Nitwits like Fry Girl and Biggie Allbeef show kids what to avoid and how to monitor their portions.
Dr. Ann McGaffey of UPMC's St. Margaret Family Health Centers and several Pittsburgh Public Schools co-created the program with Hughes.
"Childhood obesity is now the most common medical condition. Any solutions to a major public health problem need to cross institutional boundaries in communities — schools, health care offices, and community vendors and entities that influence the built environment," McGaffey said. "From this perspective, the UPMC St. Margaret family medicine residents are very proud to be fellow researchers and collaborators with Professor Kristin Hughes and the School of Design, teachers and school administrators, registered dieticians, statisticians and public health evaluation teams and to learn about human-centered design."
Hughes was pleased to see the program evolve into an interdisciplinary one across Carnegie Mellon's campus.

"There have been several CMU design students involved in the design of the program. As well as College of Humanities and Social Sciences information systems students who helped with the back end development of our website," she said. "Last spring, a senior level English class worked on a game manual and instructions for elementary teachers on how to present the Fitwits content to their students."

The website offers things families can do at the kitchen table — such as creating healthy snacks and new characters.
"We've had a ton of kids create Pittsburgh Steelers characters — a Lean Mean Roethlis Burger, a Spicy Bettis Bean Burger and someone even created a Tropical Taco based on Troy Polamalu," she said. "It's a nice way for kids to actively use their imagination while learning something at the same time."
Hughes added, "It is very special collaboration between design and the family physicians and residents and the community of healthcare providers  — everyone has come together to support the program and design something that really works."
Related Links: Fitwits.org  |  School of Design  |  College of Humanities & Social Sciences
---