A Principal Player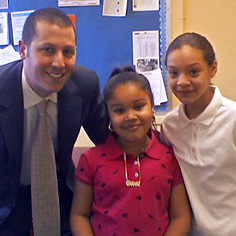 Chad Altman doesn't like to wait. Maybe that's why, at age 27, he became one of the youngest principals in the New York City school system.
And it also explains his accomplishments at Carnegie Mellon — in just five years earning an undergraduate degree in the College of Humanities and Social Sciences and a master's degree in Public Policy and Management from the now Heinz College.
Upon graduation, Altman kept up the pace, entering the fast-track New York City Teaching Fellows summer program and following his mother into teaching. He was in a Bronx elementary school by fall.
"I wanted to do something hands-on and to give back," Altman elaborated. "I wanted to get my feet on the ground in terms of directly impacting society."
Three years later, he was again on the fast track, accepted to the New York City Leadership Academy, a 14-month training program for aspiring principals.
In September 2007, Altman was hired by the first school he approached, and walked into P.S. 100 Isaac Clason as its principal. The high-performing Bronx elementary school is a low-income, Title 1 facility, with children in need of significant interventions.
Altman is committed to providing. Now in his second year, he's implemented a new after-school program and emphasizes parental involvement.
"You can only do so much in terms of the school day," he explained. "You need to really understand what complexities, what challenges the children have when they get home, and then help them achieve."
Feedback has been positive across the board, and Altman seems to have found his niche.
"I truly am passionate about where I am. Every day is unique, with new challenges," he said. "I can see myself here as long as they'll have me. I'm committed to finding strategies to meet every child's needs and motivating every child to take ownership of their learning. Once they do, there's no stopping them."
Altman gives credit to Carnegie Mellon for his critical decision-making skills, even citing a Decision Analysis course.
"In a school setting, you often have limited data and have to make complex decisions that impact a great deal of people. You don't have time to use complex equations, but the [Carnegie Mellon] experience gave me a good framework. Every decision truly does impact a family," he said.
Related Links: Social & Decision Sciences  |  MSPPM Program  |  Heinz College
---