Rowing Her Way to Success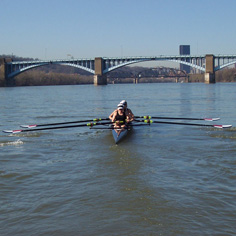 Whenever Stef Sydlik feels frustrated, she heads for the water. A recent bronze medalist at the World Rowing Championships, Sydlik says nothing soothes her mind, body and spirit like gliding across a river at the crack of dawn.
"It feels like you are absolutely flying," she said. "Everything about rowing attracts me — the sunlight reflecting on the water, the strength and energy required, the rhythmic sounds of the oars ... it's an opportunity to take out all my frustrations in a really productive, physical way."
An alumna of Carnegie Mellon, Sydlik discovered her passion for the sport through the university's rowing club. Being part of the team taught her valuable lessons on how to work with and lead people.
"My way of interacting with people used to be 'look, it's my way or the highway,'" she explained. "In the rowing club at Carnegie Mellon, I learned a lot about diplomacy, which was crucial to making the US National team since we had to row in doubles, and even more so at the World Championships, where we had to compete in a quad [four-person boat]."
Those lessons will go a long way as she continues on her path toward becoming an organic chemistry professor.
A trip to her father's workplace on Take Your Daughter to Work Day in 1996 sparked her interest in the field. Later, she was so impressed by the unique way Carnegie Mellon's Bruce Armitage taught organic chemistry, she was inspired to try her own hand at making science more appealing to students.
"Organic chemistry was hard, and I realized from my experience that the way in which it is taught can really make an impact," she said, adding that she earned herself an A in the class. "Sometimes it seems that there's a stigma on organic chemistry, but it's cool and fun, and through teaching, I can help show that to students."
Sydlik says her dream job is to return to her alma mater and teach. Meanwhile, she does as much as she can to support the rowing club at her alma mater.
"Equipment is expensive, so I try to donate as much of my old equipment as I can — especially to the younger rowers who are just starting out," she said. "One boat can cost as much as $30,000. And then there's the insurance, the transportation to and from competitions."
Sydlik is quick to point out that choosing Carnegie Mellon was the best decision she's made in her life — and the best decision since then, she says, was to join the rowing club.

She added, "It was just an awesome place to go to college."
Related Links: Tartan Crew Rowing Club  |  Prospective Tartan Rowers
---