Optimism: Bad for Your Health?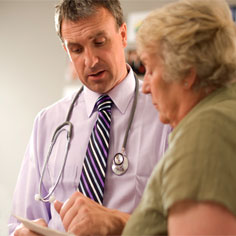 Holding on to hope may not make patients happier as they deal with chronic illness or disease, according to new research by Carnegie Mellon University Professor George Loewenstein and Dylan M. Smith, Aleksandra Jankovic and Peter A. Ubel of the University of Michigan.
The study, funded by the National Institute on Child Health and Human Development (NICHD), tracked and surveyed patients with both reversible and irreversible colostomies over a six-month period to measure their emotional well-being. The results confirm that people do not adapt well to situations if they're believed to be short-term.
"We usually assume that hope is a good thing and that it's better to have the possibility of relief," said Loewenstein, a faculty member in the Department of Social and Decision Sciences in the College of Humanities & Social Sciences. "But, we found that hope has a major downside and can prevent happiness."
For the study, colostomy patients at the University of Michigan Medical Center were interviewed while recovering from surgery and were mailed follow-up surveys one week, one month and six months after release from the hospital. The participants were asked questions to measure their psychological well-being and life satisfaction.
Patients with reversible colostomies initially reported higher life satisfaction, but as time went on, it significantly declined. In contrast, life satisfaction for patients with permanent colostomies steadily increased.
"We think they were happier because they got on with their lives. They realized the cards they were dealt, and recognized that they had no choice but to play with those cards," said Ubel, director of the University of Michigan Center for Behavioral and Decision Sciences in Medicine. "The other group was waiting for their colostomy to be reversed. They contrasted their current life with the life they hoped to lead, and didn't make the best of their current situation."
According to Loewenstein, false hope also explains why people who lose a spouse to death often recover better emotionally over time than those who get divorced.
"If your husband or wife dies, you have closure. There aren't any lingering possibilities for reconciliation," he said. "Our brains are designed to adapt to long-term situations. When given hope, they don't adapt and that can cause emotional problems such as depression and anxiety."
While there is no absolute answer on how to handle the prospect of hope, it is clear that in some uncertain situations emphasizing optimism is harmful to emotional health.
"It may be easier for a doctor to deliver a hopeful message to a patient, even when there isn't much objective reason for hope, but it may not be best for the patient," Loewenstein said. "In the case of a colostomy, you'd never recommend a permanent procedure when a temporary one will work, but doctors need to be cautious when delivering a hopeful diagnosis."
Related Links: Social & Decision Sciences  |  College of Humanities & Social Sciences  |  NICHD
---