The Meaning of Fellowship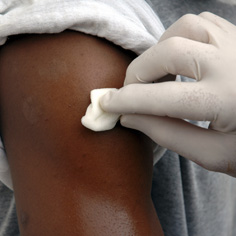 Diasmer Bloe (H'03) was just 11 years old when she traveled to the United States to escape Liberia's growing civil unrest. Her family expected to reunite with those they left behind within months. The civil war turned their stay into 17 years.
Diasmer grew up in Rhode Island and enrolled at Carnegie Mellon's Heinz College for graduate school.
While waiting for classes to start, she took a job performing data analysis for a local children's hospital. Looking out from her office at the confusion of the triage area, she knew things could be improved — and she knew her studies in policy at Heinz College could help make hospital policies more applicable to real-life scenarios.
"The policies on the books did not generally translate in reality because the people implementing the policies or doing the work daily aren't anywhere near the decision making table," she explained. "If we want a nurse to be around when a child is going through sedation, we cannot be short-staffed. I knew I wanted to do something that translated analysis into actually making it possible for a person to do their work."
After completing her Heinz degree, she spent five years at the Jewish Healthcare Foundation, led by Karen Wolk Feinstein, concentrating on workforce development in the healthcare sector. For her efforts, Diasmer was named one of Pittsburgh Magazine's 2008 Top 40 Under 40.
During this time, she kept current on happenings in the developing world, especially Liberia. With the 2005 election of President Ellen Johnson Sirleaf in Liberia, she was particularly interested about her homeland's new beginning. Upon learning recently about the Scott Family Liberia Fellowships — established for young professionals to support the new government — she knew she had to apply.
"It became very personal. The intellectual interest was there but I couldn't hide my personal interest," she said.
Diasmer was accepted into the year-long program and assigned to the John F. Kennedy Medical Center, formerly one of the premiere tertiary and teaching hospital in West Africa. At present, the center faces severe human and capital resource shortages. There, Diasmer will assist its administration in implementing its strategic plan, financial management and project control. The center is located in the capital city of Monrovia.
Diasmer is grateful for the support and flexibility she received while at Carnegie Mellon and has stayed in close touch as a board member of the Pittsburgh Alumni Association.
"At  Heinz College and at Carnegie Mellon in general, I had many supportive professors who were interested in what I wanted to do," she said. "I could take courses at the Tepper School or in the Modern Languages Department, where I took French and Russian. Carnegie Mellon allowed me to build my interests — it shaped who I am today."
Related Links: Heinz College Arts Management  |  Heinz College MSPPM  |  Scott Family Liberia Scholarship  |  Jewish Healthcare Foundation
---