Legacy & Tradition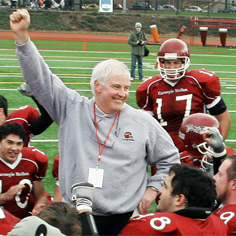 As head coach of the Carnegie Mellon Tartans football team, Richard Lackner (HS'79) never misses Homecoming Weekend at his alma mater. This year is no different — except it's looking a bit like a family reunion for him, too.
Richard, along with his aunt, Judy Skeehan Lackner (MM'44), and cousin, Sally Skeehan Dunn (HS'69,'70), are all celebrating reunions this weekend. Another cousin, Jane Skeehan Matyniak (MM'66), as well as Richard's daughter, Kimberly (HS'05), are also graduates.
The legacy began in 1905 with Judy's father, who enrolled in Tech's first night school mechanical engineering class with a passion for learning. He was known for telling his children, even during the Great Depression, "I'll give you something that nobody can take away — an education."
With those words, Judy followed in his footsteps and graduated in 1944 — at a time when it was not common for women to pursue college degrees.
When Judy attended Tech, tuition was $360. Men were not allowed in the dorms above the first floor (not even brothers), and getting to class meant walking down 107 steps from the top of a hill that no longer exists.
"Reunions are really fun," said Judy, who is celebrating her 65th. "It's great to see people you haven't seen in years, talk about the old days and see what the school looks like now."
"My friends spanned across all the disciplines," said Sally, who is celebrating her 40th. "But [the 1960s] were a tumultuous time, both on campus and in the world."
Richard joined the Tartans coaching staff as an assistant coach right after graduation, replacing Chuck Klausing as head coach in 1986 after Klausing retired. The promotion made Richard the youngest coach in the NCAA.
The Tartans have never had a losing season under his tenure.
"I get to work with a great group of coaches and student athletes who love the game of football," he said. "I am truly blessed."
Richard often hears from his former players and is proud that so many are successful in their careers.
"Football teaches them things like discipline, multi-tasking, teamwork and unselfishness, and they go on to do great things in their various fields — business, medicine, engineering," he said.
But best of all? "They truly love the game of football — they play for the love of the game."
Related Links: About Coach Lackner  |  Athletics  |  Homecoming Weekend
---