Monitoring for Disease Outbreaks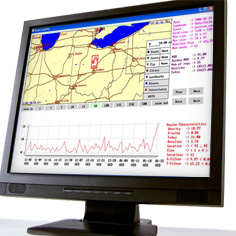 Communicable and infectious diseases often move stealthily, claiming one victim after another — sometimes with astonishing speed. But they also leave behind a little trail of breadcrumbs. If detected early enough, these breadcrumbs can help officials implement strategies to control them.
Heinz School professor Daniel Neill, a 2006 doctoral graduate from Carnegie Mellon's School of Computer Science, has been working on a solution. Collaborating with colleagues at both Carnegie Mellon and the University of Pittsburgh, he's developing an automatic disease surveillance system that will hopefully find these breadcrumbs.
The system searches for signs of disease outbreaks and biologically-based attacks by identifying data such as spikes in emergency room visits and over-the-counter drug sales.
In one retrospective case study, the system detected an outbreak of gastroenteritis in Ontario, Canada, one day faster than other automatic disease surveillance systems. It also achieved similar results using simulated outbreaks with other real-world data.
The team now plans to integrate their statistical methods into other large-scale disease surveillance systems around the country by establishing key partnerships with healthcare providers and policy makers.
"Hopefully, this technology can play an even greater role in advancing overall national preparedness and ultimately save more lives," Neill said.
Related Links: Heinz School  |  School of Computer Science
---