A Revolutionary Way to Wiixercise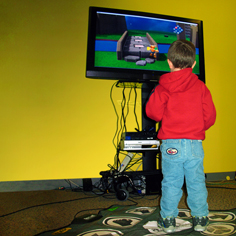 Students at Carnegie Mellon's Entertainment Technology Center (ETC) have created the first interactive video game for children that uses both a Dance Dance Revolution floor-pad and a Wii Remote — helping kids burn calories while they play.
Through their project called "The Winds of Orbis," they wanted to do more than just reduce the amount of time gamers spent on the couch. They wanted kids to actually forget they were exercising.
"We think video games have played a part in childhood obesity, so we think it's only fair to use video games to fight that," said Ryan Hipple, a first-year student at the (ETC) and one of two programmers on the team.
The Winds of Orbis features a muscular, cat-like hero who must find its way home by running along stone pathways, climbing vines and confronting adversaries along the way. Players must use the Wii Remote in combination with the floor pad to simulate what they want the hero to do — run, climb, jump or knock obstacles out of the way, for example.
As the hero progresses through the game, it advances through the imaginative Zen-like landscape to higher planes of "enlightenment"— and ultimately home. The notion of obesity being the enemy is a subtle, underlying theme carried throughout the game, often represented in the humorous, distorted shapes of the hero's adversaries.
"Exercise games haven't really changed since the '80s," said team programmer Seth Sivak. "We wanted to break the mold."
The team is consulting with medical experts at UPMC to construct an ideal and measurable workout, merging the 'flow' of game play with cardiovascular exercises and repeated body movements.
Environment artist Nate Morgan created the rich and colorful landscape while animator Zikun Fan gave the hero its abilities to do things like run, jump, dodge and attack. Garth DeAngelis composed and recorded the game's fitting background music, which changes with the hero's situation.
Hipple says one of the best things he got out of the experience was learning how to collaborate with an interdisciplinary group of people. Sivak adds that they're really thrilled to have reached their goal of providing an immersive experience.
"We've had over 200 kids test the game, from teenage boys to Girl Scouts to 3-year-olds who couldn't yet even reach all the places on the floor pad," Sivak explained. "I'm happy to say our biggest problem was trying to get the kids to stop playing once their user test was over. That was our biggest payoff."
Rounding out the rest of the team: Sean Kwon was the modeler and texture painter for all the characters in the game. Bard McKinley provided design concepts for the characters, enemies and game play. And Drew Davidson served as the project's faculty advisor. Davidson is the director of ETC-Pittsburgh.
Related Links: About the Team  |  View Concept Art  |  Learn More About the Technology
---