Advancing the Automated Stretcher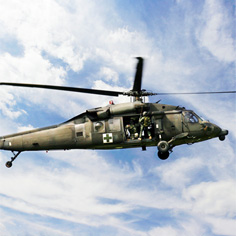 A badly wounded soldier is dragged from the battlefield while his stretcher automatically positions critical diagnostic sensors. The stretcher begins sending lifesaving information to remote doctors, saving precious minutes.
Associate Professor Howie Choset and his team at Carnegie Mellon's Robotics Institute are working to make this futuristic scenario a reality. The team's goal is to improve an existing automated stretcher known as the LSTAT (Life Support for Trauma and Transport) system with the use of robotics.
Choset described the LSTAT as "a stretcher on steroids" — essentially a self-contained ICU with a defibrillator, ventilator, oxygen, and physiologic monitors. It is currently in use by the U.S. Army in locations such as Iraq and Afghanistan. He and his team are working to integrate a 'snake robot' into the system.
"Snake robots are highly articulated mechanisms," Choset explained. "With multiple joints, the bots provide mobility in confined situations."
The LSTAT's snake robot would be capable of automatically placing sensors on the patient to begin immediate examination, allowing medics to concentrate on quickly removing the injured soldier from the battlefield. Future robotic possibilities include positioning diagnostic and therapeutic tools and linking with other army vehicles.
Choset's team is a testament to the value of interdisciplinary collaboration. The senior members include engineers and an army representative, while the 20 graduate and undergraduate students are affiliated with departments as varied as mechanical, electrical, and computer engineering; computer science; physics; and history.
The team has built a prototype, but it's currently in a holding pattern while awaiting project and student funding.
"Student funding would be of great value," Choset said. "If I could support the students on this project, then I could keep the project alive."
Choset has been hooked on robots since the age of five and considers it a dream come true to be working at Carnegie Mellon in what he calls the world's best robotics research center.
"When I see the robots in my lab, I have yet to be bored watching these guys move. The motion — it's incredible to me," Choset explained. "Being able to break down the principles of what makes that motion occur is a great research problem with wonderful applications."
Related Links: Watch Video  |  Robotics Institute  |  Biorobotics Lab  |  Snake Robots
---