New Classroom Edition DVD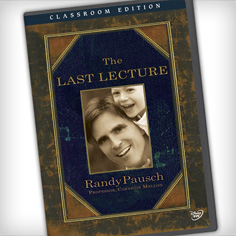 Looking for an inspirational holiday gift? Disney Educational Productions has partnered with Carnegie Mellon University to offer a special interactive edition DVD of Randy Pausch's last lecture, "Really Achieving Your Childhood Dreams."
The DVD is a tool for educators and others who want to share the powerful lessons of Randy's lecture in a classroom or group discussion format. It includes a 30-minute version of the lecture for easier classroom viewing, as well as the following additional features:
a downloadable discussion leader's guide with discussion guides, activities and additional resources
two ABC News segments featuring Randy
a collection of Randy's family photos
a segment about Randy's research project Alice, an educational software that teaches students computer programming in a 3D environment
The full-length lecture is also included in the Bonus Material section for educators who want to show it in its entirety.

The Classroom Edition DVD is available for purchase through Disney Educational Productions. The DVD is also available at Amazon.com and Barnes & Noble.
With Pausch's recent selection as "Pittsburgher of the Year" by Pittsburgh Magazine and the "Most Inspiring Person of 2008" by Beliefnet.com, the release of the DVD couldn't come at a better time.

Beliefnet.com editors explained they chose Pausch because of his huge, far-reaching impact and because even after his death he continues to inspire legions of viewers.

"Pausch's lecture, delivered for a small audience at Carnegie Mellon University where he was a professor of computer science, became an Internet phenomenon," they wrote on the Beliefnet website, which has a daily email newsletter readership of nearly 11 million subscribers. "By 2008, his inspiration had reached almost 20 million people. His message was simple and powerful: 'We cannot change the cards we are dealt, just how we play the hand.'"
It's this lesson that many educators and others can share through the new interactive DVD.
Related Links: Disney Educational Productions  |  Alice.org  |  Most Inspiring Person of the Year  |  School of Computer Science
---