Student Org Takes a Stand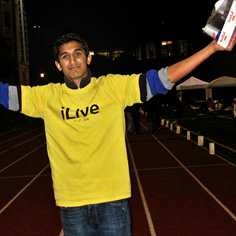 Two Carnegie Mellon students recently started "iLive Alliance," an organization of students, businesspersons and community members taking a stand against cancer-related diseases.
"We realize how much work non-profits and .orgs put into their programs. We want to help them realize their goals by helping in the event and fund-raising portion of their work," said Ben Neenen, (MCS,HS '08, HNZ '09), who co-founded iLive and is working on a master's degree in health care policy and management. "By assembling a network of venues, party planners, service providers and so on, we can better negotiate prices, save time spent on planning by these organizations and help them to focus on their day to day activities."
Within a two-month period, iLive has more than doubled in size and continues to grow. The group is working to become recognized as an official non-profit organization (NPO) within a year from its founding date.
Co-founder Paige Williamson (HS '10) sees the iLive Alliance as an example of students putting the idea of interdisciplinary collaboration into action.
"We need doctors, researchers and patients working together, but we also need lobbyists, non-profits, counselors, accountants and people in the service industries to all come together to make headway," Williamson explained.
Both Williamson's and Neenan's lives have been touched by cancer in some way.
"My grandmother, several cousins and my best friend's father have passed away due to cancer," Neenan said. "In my work with student life and Greek life, I've also known several co-workers, residents and friends who have lost family members to the diseases associated with cancer."
"It is an awful way for someone's life to end," Williamson said. "Their life literally deteriorates a little bit everyday, so it is important to do all that you can when you have the opportunity," said Williamson.
Recently, iLive set up an event called "Pittsburgh Lives," where students, faculty and staff came together to celebrate life.
"Pittsburgh Lives was a day to remember those touched by cancer and to remember how special life is," Neenan said. "We are truly blessed with every day that we are given."
Williamson and Neenen would like more people to get involved here on campus and within the Pittsburgh Community. The group currently has committees that target business, local government officials and campuses.
If you would like to get involved by donating to the cause or by giving of your time, contact the iLive Alliance at ilivealliance@gmail.com.
Photo: Sagar Mehta (TPR'10), a member of the iLive Alliance.
Related Links: Heinz College  |  College of Humanities & Social Sciences
---