Matyjaszewski's ATRP Research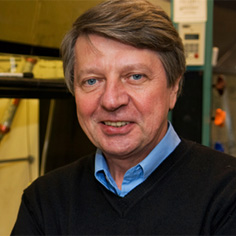 The researcher behind atom transfer radical polymerization (ATRP), Carnegie Mellon's Krzysztof Matyjaszewski has had a radical impact on many fields.
Whether it's decreasing the toxicity of medical drugs, creating degradable plastics or coating cardiovascular stents, the professor of chemistry's creation of ATRP is sparking innovations that could greatly improve the quality of our lives.
Among the most widely used and most effective forms of controlled radical polymerization (CRP), ATRP allows scientists to easily form polymers by putting together the component parts — called monomers — in a controlled, piece-by-piece fashion. Assembling polymers in such a manner has allowed scientists to create a wide range of polymers with highly specific, tailored functionalities.
Polymers created using ATRP have been used for coatings and adhesives, and are currently under investigation for use in the medical and environmental fields.
An important key to ATRP's success is that the process is easily conducted in available industrial equipment. Much of the research progress and commercial success can be attributed to two research consortia Matyjaszewski has initiated and led.
These two highly successful consortia have allowed companies to quickly incorporate the latest ATRP methodologies into the development of new products for their specific markets. These consortia have been comprised of over 40 multinational chemical companies from across the world, who have sent their employees to be trained in Matyjaszewski's laboratory.
Having a truly global impact, ATRP technology developed by Matyjaszewski has already been licensed to nine international companies, which started production of ATRP-based polymers in Japan, Europe and the United States in 2004.
ATRP has been successfully used to create better pigment dispersants for inkjet printing, cosmetics, chromatographic packings, adhesives and sealants for self-cleaning windows, among others.
The recipient of numerous awards and honors, Matyjaszewski received his doctorate from the Polish Academy of Sciences in 1976 and completed a postdoctoral fellowship at the University of Florida in 1977. From 1978 to 1984, he was a research associate of the Polish Academy of Sciences. From 1984 to 1985, Matyjaszewski held appointments at the University of Paris, first as a research associate and then as a visiting professor.
In 1985, he joined Carnegie Mellon, where he founded and currently directs the Center for Macromolecular Engineering. The Center for Macromolecular Engineering is funded both by an active consortium and government agencies, including the National Science Foundation and the Environmental Protection Agency.
In 1998, Matyjaszewski was appointed the J.C. Warner Professor of Natural Sciences. In 2004 he was named a University Professor, the highest distinction faculty can achieve at Carnegie Mellon.
Related Links: Center for Macromolecular Engineering  |  More About Matyjaszewski  |  Matyjaszewski Polymer Group
---