A Passion for Discovery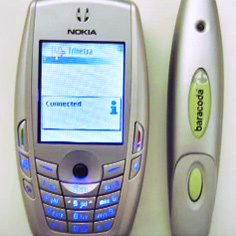 Priya Narasimhan, associate professor of Carnegie Mellon's Electrical and Computer Engineering Department, is a woman of contagious enthusiasm. Since arriving in 2001, she and her students have translated many of her ideas into reality.
"One of the things that's exciting at Carnegie Mellon is that you can follow your passion," she explained. "People don't curtail you or try to put a label on you. You have the freedom to create and innovate."
The bulk of her research involves dependable distributed systems — in other words, keeping large software systems up and running.
However, witnessing a blind man's snowy, winter struggle with public transportation took her in an unexpected direction.
"I thought we could do a lot better," she said. "We should be able to leverage technology to allow greater independence for people with disabilities."
Since then, she has been dedicated to developing affordable mobile-assisted technology for the disabled. Trinetra, a project she conceived to assist the blind, already has three inventions in the user-testing stage.
These include: 1) a Grocery Assistant, or scanning bar-code pencil that allows a common cell phone to vocalize items, 2) a Currency Identifier that enables a cell phone to vocalize denomination from a partial photo, and 3) a Transportation System that allows a cell phone to vocalize relevant bus schedule information.
Narasimhan has also spearheaded the development of a glove designed to help the deaf communicate. It captures the user's American Sign Language gestures, then translates and relays this information to a cell phone, which vocalizes the dialogue.
Most recently, Narasimhan helped launch Carnegie Mellon's new Mobility Research Center (MRC), a bi-coastal hub run through Carnegie Mellon's CyLab and dedicated to studying the multiple facets of the exploding mobile device arena. The MRC brings together the work of Narasimhan and other faculty members studying diverse facets of mobility. It combines the research strength of Pittsburgh with the Silicon Valley campus's proximity to industry.
Narasimhan prizes all of her "amazing" students, from Ph.D.'s to undergraduates.
"It's never too early to start research," she explained. "You can pick up the skills. All you need is curiosity."
Increased funding for her students would help Narasimhan's work "tremendously," she said. "We have so many other interesting things and interesting avenues we'd like to pursue."
Related Links: Watch Video  |  Electrical & Computer Engineering  |  Trinetra  |  Mobility Research Center  |  CyLab
---