Leaders Working Together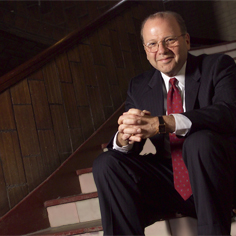 Carnegie Mellon President Jared L. Cohon will join leaders of business, politics, intellect and society this week at the World Economic Forum in Davos, Switzerland.
The annual meeting is an opportunity for a diverse group of world leaders to leverage their collective wisdom and formulate a global agenda to initiate necessary change in the year ahead.
"Participating in the World Economic Forum is a great honor for me and my university," said Cohon. "The invitation to take part in the Forum is a sign that Carnegie Mellon's commitment to becoming a global university has been recognized, and that our university is seen as a place of creativity, innovation and knowledge generation with a key role to play in meeting the world's most urgent needs."
The theme for this year's meeting is "The Power of Collaborative Innovation." Discussions will be based on five primary concepts: Competing While Collaborating; Addressing Economic Insecurity; Aligning Interests Across Divides; Exploring Nature's New Frontiers; and Understanding Future Shifts in Societal Values.
The conference is being co-chaired by:
Tony Blair, Prime Minister of the United Kingdom (1997-2007); Member of the Foundation Board of the World Economic Forum;
James Dimon, Chairman and Chief Executive Officer, JPMorgan Chase & Co., USA;
K.V. Kamath, Managing Director and Chief Executive Officer, ICICI Bank, India;
Henry Kissinger, Chairman, Kissinger Associates, USA;
Indra K. Nooyi, Chairman and Chief Executive Officer, PepsiCo, USA;
David J. O'Reilly, Chairman and Chief Executive Officer, Chevron Corporation, USA; and 
Wang Jianzhou, Chief Executive, China Mobile Communications Corporation, People's Republic of China.

Photographed: Jared Cohon
Related Links: The Global University  |  World Economic Forum  |  The Davos Question
---