Students Take 'Apprentice' Challenge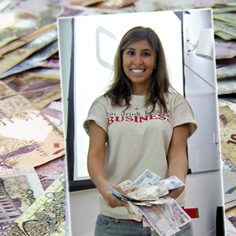 In a mini-version of the American reality television show "The Apprentice," students at Carnegie Mellon in Qatar spent 48 hours racing against the clock as they tried to turn QR 300 (about US $82) into as much money as they could.
Thirty-five students were split into 7-member teams and given seed money and 20 white T-shirts. Teams were granted the freedom to use the money and shirts in any way they could to return a profit, while abiding by the rules and regulations of the popular television show.
And competitors in the event — which was organized by the Carnegie Mellon Business Association — had quite an incentive: the team who raised the most money would get to split the total earnings.
Each team came up with several ideas to raise money — whether it was through selling the shirts, holding bake sales, or braving the heat outside Al Sadd Stadium selling soft drinks and sunflower seeds.
The Carnegie Mellon Business Association — or cmBA — held The Apprentice as a way for students to learn how to strategize together to earn money quickly. Teams were required to keep detailed records of their business transactions, and had to submit documentation of their business concepts.
"Those two days were the most intense two days of my university life so far, but I loved every minute of it," said Zeyad Al Mudhaf, a freshman business administration student. "That was the first time that I got to apply the skills I learned in business classes to real-life situations. That was also the most successful group work I have ever been involved in because all the team put in a great effort."
cmBA is a student organization that aims to cultivate the strongest business students in the region, immerse business minds in a business culture and establish long-term relationships with the business community.
"cmBA and the events it sponsors, such as The Apprentice, take the Tepper business education to the next level," said J. Patrick McGinnis, business administration faculty at Carnegie Mellon in Qatar. "Tepper business students immerse themselves in their business education, and this organization helps students polish their professional presence as they engage the business world around them."
McGinnis added, "cmBA members live the organization's slogan, which is 'Eat, Drink and Breathe Business.'"
The seven students on the winning team split a whopping QR 14565 (about US $4000). Members of the second place team took home brand new Nokia cellular phones courtesy of Ettisal, a member of Al-Sulaiman Group and authorized distributor of Nokia products.
The Apprentice event was open to all Carnegie Mellon Qatar students, not just those enrolled in Business Administration. cmBA is planning to hold more business challenges over the remainder of the academic year.
Related Links: Carnegie Mellon in Qatar  |  Akhbar Online  |  Tepper School of Business  |  The Global University
---