Carnegie Mellon & Japanese Art Schools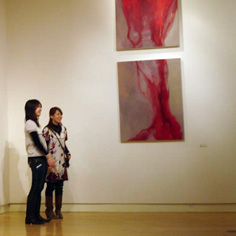 The Regina Gouger Miller Gallery at Carnegie Mellon recently presented TRANSIT 2008, the latest installment of an 11-year exchange between the School of Art at Carnegie Mellon and Kyoto University of Art & Design, Nagoya Zokei University of Art & Design (NZU) and Tokyo Zokei University.
"In producing and presenting their artwork in new environments and venues, our students are better prepared to make an impact as emerging artists in a global arena," said Andrew Johnson, one of the three coordinating professors.
He added, "Cultural exchange is paramount in forming critical perspective, challenging assumptions, fostering understanding and creating personal stakes in learning from and with others. International collaboration forms friendships that establish mutual goals and opportunities to achieve them."
TRANSIT 2008 continues a relationship that began in 1997, when School of Art faculty were invited to NZU for a joint exhibition at Aichi Prefectural Museum of Art.
In 2000, the Miller Gallery presented "Nagoya Works on Paper," which showcased a diverse group of works on Japanese handmade paper, Mino-Washi. Five years later, Carnegie Mellon art students demonstrated their interactive artworks at Nagoya's Yada Gallery, the World Expo Fairgrounds and on Japanese television when Carnegie Mellon joined TRANSIT, which is an international consortium of art schools that fosters exchange.
NZU organized TRANSIT 2007 in the fall of that year, during which the exhibit traveled from Nagoya to Tokyo and Kyoto.
The 2008 version at the Miller Gallery featured site-specific installations created while the artists were in Pittsburgh along with drawings, paintings, sculptures, printmaking, video and new media works. Susanne Slavick, the Andrew W. Mellon Professor of Art, and Golan Levin, associate professor of art, coordinated this exhibition with Johnson.
"TRANSIT 2008 [was] illuminating for its participants, aesthetically engaging for gallery visitors and a whole lot of fun," Johnson said.
Related Links: Miller Gallery  |  School of Art  |  The Global University
---