On Google's Success in China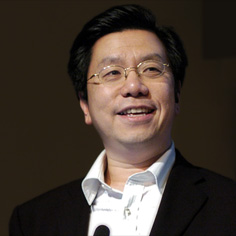 In 1988, Kai-Fu Lee received his doctoral degree from Carnegie Mellon's School of Computer Science, where he accepted a position as an assistant professor. 
Fast-forward 20 years and Lee has returned to his alma mater as founding president of Google China and vice president of Google, Inc. It was standing-room-only in McConomy auditorium as he spoke about the company's path to success against all odds.
"China is big, and China is challenging," admitted Lee, whose warm wit drew plenty of laughs as he outlined the six-step plan through which Google China gained its increase in market share and developed the best search engine in China.
He cited a long-term view and patience as key, underscoring the importance of putting people first and creating a search engine designed by Chinese for Chinese.
"We build a world-class team by attracting the very best, finding the best engineers and giving them lots of freedom," Lee explained. "And we empower the local team."
Lee went on to describe how Chinese users differ from other users, noting their tendency to be curiosity-driven rather than having an 'I'll-recognize-it-when-I-see-it' search behavior.
"So, we concentrate on building the traffic, and profit will follow," Lee said. "It's a very unique formula that allows us to focus on the user."
Lee noted that multinational companies face a lot of challenges, but Google has reasons for optimism.
"We're hiring really great people. And we did the right thing — focusing on building the company to last rather than to make money quickly."
Lee joined Google in 2005 to develop the company's operations in China. In short, he's responsible for all engineering, product development and public affairs activities there. Prior to joining Google, he was a corporate vice president responsible for advanced natural language and user interface technologies at Microsoft and was the founder of Microsoft Research Asia.
While an assistant professor at Carnegie Mellon, Lee developed the world's first speaker-independent continuous speech-recognition system. This system was selected as the "Most Important Innovation of 1988" by Business Week.
Also while at Carnegie Mellon, Lee developed the world-champion computer program that plays the game "Othello" and that defeated the human world champion in 1988.
Fortune magazine ranked Google the number one company to work for in America in 2008.
Related Links: Watch the Lecture  |  School of Computer Science  |  The Global University
---