A World United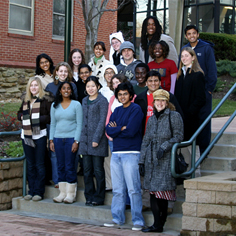 It's another late night for Sruthi Reddy and her peers — but nobody in the group wants to end the intense conversation about religions around the world.
These spontaneous discussions on international issues are a common occurrence in the Global Studies House, a living-learning community for first-year students located on the first floor of Boss House.
The co-ed theme house is dedicated to broadening the international perspectives of its 21 residents. This is accomplished through daily living in the culturally diverse community, as well as frequent personal interaction with faculty from across the university.
The house's three faculty fellows spend informal time with the students, while other faculty members join residents weekly for scheduled discussions. Recent discussions have included Professor Michael Bridges on global literacy; Vice Provost for Education Indira Nair on how we become globally educated; and Assistant Professor Scott Matthews on production and environmental impact.
Reddy — a 19-year-old electrical and computer engineering student from Chandigarh, India — came to Carnegie Mellon and the Global Studies House with the hope of becoming a globally educated citizen.
She explains, "The Global Studies House is amazing and unique because of its very diversity. I am overjoyed to belong to this global community in which we all have crossed barriers of nationality and race and have come together as one big family."
Reddy is one of the eight residents also planning to participate in an upcoming trip to Nicaragua during spring break. Professor Therese Tardio, the faculty fellow leading the trip, is teaching a mini course aimed at helping to prepare the travelers for the experience.
The nine-day trip will allow the students to apply what they've learned — about such topics as the global environment, exchange and economy — to the real-life context of the Nicaraguan culture.
The students will be visiting a coffee co-op to learn about fair trade coffee; speaking with political and health officials; touring a women's care center; and providing community service to the children of a local school.
"The Global Studies House is the greatest college experience ever," Reddy said. She joked, "The only downside is my mother's a bit disappointed that I do not miss home so much!"
Related Links: Global Studies House  |  The Global University  |  Office of International Education
---