Students Help a Family in Jordan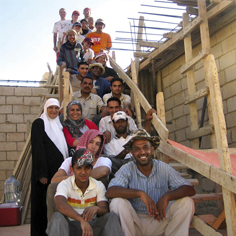 Maha Mahmoud (TPR '09) wipes the sweat from her brow as she surveys her work in the hot Jordan sun. She and some of her fellow students from Carnegie Mellon University in Qatar are helping a family in need build a second story on their small home.
The addition will provide enough room for the family's son and his wife to move in and start their own family.
"Going on a trip and actually doing something is very different than just giving money," Mahmoud said. "You can actually see the impact you are making."
The opportunity arose through Habitat for Humanity International — a nonprofit organization that invites people of all backgrounds, races and religions to build houses together in partnership with families who need assistance. In all, nine Carnegie Mellon students plus three chaperones participated in the weekend-long activity.
Most of the students had never done any type of construction and were a bit uncertain when tasked with hauling 400 cinder blocks and pouring concrete. However, under the guidance of professionals they soon mastered their jobs and much to everyone's surprise, had fun doing it.
"I learned how to push myself to the furthest physical extreme," Mahmoud said. "It was rewarding knowing we were doing it for someone in need."
In addition to Mahmoud, students on the trip were Naif Al-Kaabi (CS '10), Saad Al-Matwi (TPR '10), Hicham Nedjari (TPR '08), Ramsey Ramadan (TPR '09), Maha Al-Khulaifi (TPR '09), Nasreen Zahan (CS '10), Megan Larcom (TPR '10) and Hillary Smith (TPR'10).
Greg Smith, student development coordinator, and Dave Stanfield, director of student services, and Caryl Tuma, community advisor, chaperoned the trip.
The emotional aspect of the trip caught Mahmoud by surprise. The group had plenty of time to get to know the family through the work and by sharing meals together. And the students presented the family with a photo album of pictures from the weekend before they shared a poignant goodbye.
"It was amazing to see a lot of cultures coming together for a common goal," she said. "And the family was so grateful."
Related Links: Carnegie Mellon in Qatar  |  Habitat for Humanity  |  The Global University
---