ThinkGreen. LoveGreen. LiveGreen.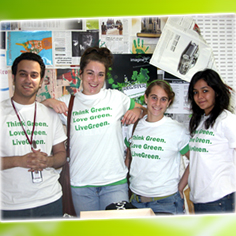 During the summer that Megan Larcom (TPR '10) spent interning at Carnegie Mellon in Qatar, she was surprised to see recyclable items tossed into the trash.
She returned to Qatar in the fall with classmate Hillary Smith (TPR '10), the first full-time exchange students. Along with Brian Manalastas — a freshman business major in Qatar — the students shared the goal of building environmental awareness.
So they co-founded LiveGreen, a student-run organization with a mission to educate the community about how each individual can contribute to protecting the environment.
"The Qatar community has been very receptive to our ideas," said Larcom. "We debuted LiveGreen in Doha with a week filled with events that promoted environmental awareness. We did things like show documentaries and decorate faculty offices with recycled newspapers and recycled bottles."
The group also visited the American School of Doha where they held open discussions on social responsibility with seventh and eighth graders and educated them on how they, too, could be involved in protecting the environment.
"For some reason, our efforts seemed to spark a real interest in the community and fostered a relationship between the community and the environment," said Smith.
LiveGreen wasn't the only group in the region with an interest in the environment. When another student organization in the area organized a community-wide beach clean-up, LiveGreen helped coordinate where to take the recycled trash. Members of both groups remarked on the transformation that took place on the beach.
Smith reports that the efforts the trio started are continuing and that the number of participants continues to grow.
"People are saying they're impressed that we were able to get a group of students together to work toward such an important goal."
Carnegie Mellon students around the globe are involved in efforts to build awareness around environmental issues — whether through their class-work or volunteer initiatives. For more about the environment and Carnegie Mellon, visit www.cmu.edu/environment.
Photo (left to right): Mena Assad, Megan Larcom, Hillary Smith, Benazir Anis
Related Links: LiveGreen  |  Carnegie Mellon in Qatar
---