MBAs Network in India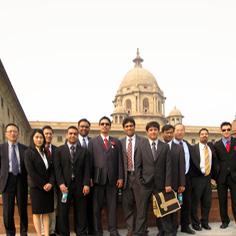 When Apoorva Choudhary (TPR '08) helped to organize the first MBA trek to India for Carnegie Mellon's Tepper School of Business, he was a man on a mission: to create exceptional networking opportunities with unparalleled access to the power brokers of a major emerging world economy.
Choudhary was driven by a desire to discover what he calls "the real India," and to be on the ground with the decision makers who are shaping the future of a country that has captured global attention.
"India is here to stay. It will continue to have an important place in the world business scenario," said Choudhary, former president of the South Asian Business Association (SABA).
The group of 11 MBA students, who were accompanied by Associate Professor of Accounting Zhaoyang Gu, met with both the current and former Ministers of Finance of India; the chief executive officer of Indian Railways, a massive industry employing 1.6 million people that underwent a complete turnaround in less than five years; and the chief operating officer of Indigo Airlines, among others senior officials.
They also attended lectures at the Indian Institute of Management in Bangalore, which arranged a customized presentation for the Tepper School aimed at providing an MBA executive education program.
"The guiding principle for our team was: We learn finance [at the Tepper School], we learn marketing here, we learn operations here. Whatever we have learned at Tepper, how is it directly applicable in a place like India, and how much of it has to be modified? And how do you modify it?" said Choudhary.
Following the model advocated by the school, the trip was conceived, designed and executed completely by the students. They leveraged their own personal networks, as well as those of faculty, staff, alumni and other Tepper resources, to create an agenda that struck the best balance of education and recreation.
First-year students plan to return to India in December to allow more time and even greater access to government officials — who are busier in March because the nation's budget is announced in late February.
"It's pretty difficult to have a career nowadays and ignore a country like India," said Subu Narayanan (TPR '09), who helped plan the trip and pointed out that many of this year's graduates are likely to manage a team there, or have Indian customers.
"It doesn't matter if you're from there or have those touch points. How India grows in the future will have an impact on your career."
Related Links: Tepper School of Business  |  South Asian Business Association
---