Architects in the Spotlight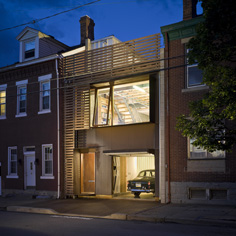 Three young faculty members in Carnegie Mellon's School of Architecture have been honored recently with prestigious awards. The accolades support the completion of a manuscript, recognize excellence in housing design, and acknowledge the successful branding of the American home.
Kai Gutschow will use the postdoctoral fellowship grant he received from The Getty Foundation in Los Angeles to complete the manuscript for his book titled "Inventing Expressionism: Art, Criticism, and the Rise of Modern Architecture." The book is a reinterpretation of the origins of Expressionism in German architecture in the years 1905-1925.
Getty Foundation postdoctoral fellowships provide one year of full support for outstanding scholars from around the world in the early stages of their careers who are engaged in interpretive research projects that make a substantial and original contribution to the understanding of art and its history.
Gerard Damiani's Live/Work Studio received an American Institute of Architects (AIA) National Housing Award. Now in its eighth year, the AIA's Housing Awards Program recognizes excellence in housing design while promoting good housing as a sanctuary for the human spirit and a valuable national resource.
Pittsburgh-based design firm evolve environment::architecture was one of three firms recognized in the national AIA/Ford competition "Branding the American House." The competition program required focusing on a car in the design of a house for a family whose livelihood depends on the auto industry.
Fifth year architecture students Gabriel Cuellar and Zach Hartle were integral to the design process, which Mondor calls "an optimistic critique of the auto industry."
"The family's hydrogen-fueled sports utility vehicle is integrated into the building systems — including distributed power generation, water treatment, food production and energy feedback — but also becomes the vehicle for transporting the house and family when their livelihood is inevitably relocated," Mondor explained.
According to Laura Lee, head of the School of Architecture, the significance and stature of these awards are reflective of the superb accomplishments of the entire Carnegie Mellon community including alumni, faculty, staff and students.
"The numerous awards and recognition earned by our faculty as well as current students and graduates have produced rankings of #1 in Sustainable Design and #7 Bachelor of Architecture program in North America," she said. "We are extremely proud of the School of Architecture's regional, national and international impact on architecture and urbanism through excellence in practice, teaching, research and scholarship."
She added, "The wealth of opportunities for our 2008 graduates could not be greater, and we are certain that each one of them will continue to excel alongside our hundreds of highly successful alumni practicing around the globe."
Photo: Live/Work Studio © Ed Massery
Related Links: Kai's Homepage  |  Gerard's Live/Work Studio  |  evolveEA.com  |  School of Architecture
---