Scholarship Inspires Philanthropy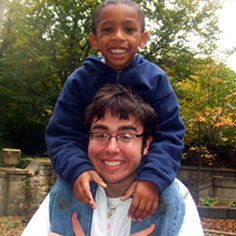 James Harrell (HS '10) considers himself a lucky guy. A recipient of the Giler Family Scholarship — part of the Holleran Scholars Program — he talks enthusiastically about the opportunities available to him through Carnegie Mellon.
After four weeks of study abroad in Madrid this summer, he will travel to Qatar to be a teacher's assistant for Carnegie Mellon students.
"I'm really excited about studying in Madrid," he said. "I have always had a desire to be fluent in Spanish and learn as much about my family's Mexican heritage as I can. I can't wait to be totally immersed in the culture."
Harrell is similarly awed by his experiences on Carnegie Mellon's Pittsburgh campus. Each year, in an effort to teach and encourage the values of philanthropy, the Holleran Scholars are collectively given $5,000 that they can allocate to a charity of their choosing.
Most recently, Harrell and his fellow scholars chose to support C.U.T.I.E.S. — Carnegie United Towards Increasing Effort in Service — which is a community service student organization for kids in the Friendship area of Pittsburgh.
"We do advocacy events on campus as well," he added. "For example, last year we did the Virginia Tech candlelight vigil. And each year, during Women's History Month, we host a food drive for a women's shelter. The money we were able to raise for the women's shelter in my rural community provided six months of food."
And that's not all. Through a class taught by Professor Paul Fischbeck, Harrell recently had the opportunity to work with Dan Gilman (HS '04), a member of Carnegie Mellon's Alumni Association Board. Serving as chief of staff for Pittsburgh Councilman Bill Peduto, Gilman provided Harrell with the opportunity to perform a cost-benefit analysis for Schenley High School.
"The high school had a huge asbestos problem and the superintendent wanted to shut the school down," Harrell explained. "I worked with Dan to determine the benefits that should be considered before making a decision."
Harrell says he appreciated the opportunity to apply the skills he was learning in the classroom to a real world problem. And he says he wants others to experience his good fortune. He hopes that he can one day make a difference in rural towns — like his own hometown in West Virginia.
"I want to go back and give these same kinds of opportunities to people in towns like the one I come from," he said.
The Giler Family Scholarship, created by Eric (IM '77) and Kim (HS '78) Giler, is one of more than 50 new undergraduate scholarships established at Carnegie Mellon through the Holleran Scholarship Challenge.
In the challenge, alumnus T. Jerome (E '57) and Carolyn Holleran encouraged the creation of undergraduate scholarships by agreeing to match a portion of each gift. The program they established is designed to teach the recipients about philanthropy, including having them meet as a group to consider, debate and select a university giving opportunity.
Related Links: Study Abroad Programs & Scholarships  |  College of Humanities & Social Sciences  |  Make a Gift Online
---