ETC Opens Its Doors in Osaka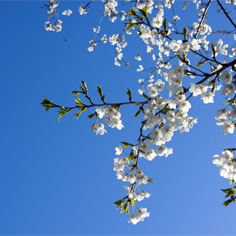 Something other than the cherry blossom is blooming in Japan. Carnegie Mellon's Entertainment Technology Center (ETC) recently opened its doors in Osaka with the program's first five students and ETC-Japan Director Michelle Macau.
The ETC offers students a two-year Master of Entertainment Technology degree, jointly conferred by Carnegie Mellon's College of Fine Arts and School of Computer Science.  The mission of the center is to foster leadership in education and research that combines technology and fine arts to create new processes, tools, and vision for storytelling and entertainment.
ETC students have the opportunity to spend time pursuing their degrees in multiple locations around the globe, including Osaka, Pittsburgh and Silicon Valley.
The grand opening was a major media event featuring the glitterati and power brokers of Japanese politics, business and culture from throughout Japan's second largest city, according to ETC Executive Producer Don Marinelli. Guests viewed the breadth of ETC projects as represented by posters from ETC projects old and new. Carnegie Mellon alumnus Burton Morris (A '86) even donated a variety of signed artwork for hanging in ETC-Japan.
Osaka Mayor Kunio Hiramatsu and U.S. Consul General Daniel Russel welcomed the ETC to Osaka and expressed hope that the ETC's presence would ultimately spur a surge of entrepreneurial thinking on par with what has occurred in Pittsburgh. The celebration took place in the facilities of the IMedio Foundation, located one floor below the ETC's spacious facility within the Asia and Pacific Trade Center on Osaka's harbor.
IMedio is the host entity for ETC-Japan and takes care of the ETC's logistical and networking needs. Marinelli called the cooperation between IMedio and the ETC "stellar," noting the friendships that began as business relationships.
Sharp Corporation, an innovator and major leader of industry in Japan and ETC-Japan's first Japanese corporate sponsor, was represented by Dr. Kenji Ohta, Corporate Senior Executive Director. Mariyon Robertson, Vice Chairman of Colliers ABR, Inc, and an advisor to both the Mayor of Osaka and the ETC, served as master of ceremonies. Yoshi Terahara and Hiroko Osaka, who have worked closely with the ETC from the earliest discussions, were present to see come to fruition the idea which was conceived less than a year ago.
Representing the ETC at the celebration were ETC-Japan Program Director, Michelle Macau; Rebecca Lombardi, Director of ETC Global Admissions and Marketing; and Marinelli. Also on hand were representatives from Carnegie Mellon's CyLab Japan in Kobe and Professor Sono Hayes from Carnegie Mellon's Modern Language Department, who served as translator and host. Hayes is a native of Osaka.
The event was recorded by Japanese media and featured on the evening news and in the morning newspapers.
Related Links: Entertainment Technology Center  |  CyLab Japan  |  The Global University
---