Student's Work Improves GPS Technology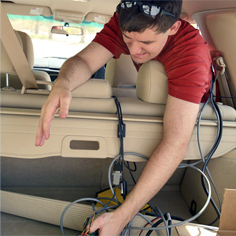 Justin Carlson cringes at the site of detour signs. He doesn't like being lost on the road any more than the rest of us; and he thinks his car's Global Positioning System can do better.
"It's part of the solution, but it's not the entire solution," said Carlson, a robotics Ph.D. candidate and teaching assistant at Carnegie Mellon's Qatar campus. So he's working to develop GPS technology that's accurate down to the centimeter.
Carlson has fitted his Subaru Forester with a GPS, laser scanners, a laptop computer and sensors that capture an array of data.
"Justin's work is building very high-accuracy maps of very large areas," said Chuck Thorpe, dean of Carnegie Mellon Qatar and robotics advisor to Carlson. "In a city like Doha, with construction happening all over the place and all the time, this gives us a way to keep maps up to date -- to monitor the progress of all the new developments."
Thorpe added, "Justin's work is a great example of research which is both very good theoretically, and very useful practically, at the same time."
And while Carlson says he's not setting out to invent the driverless car, he is hoping to develop highly detailed mapping software that may contribute to the field of autonomous driving. He conceptualized the project in 2006 and is planning on using it as the basis of his doctoral thesis.
Related Links: Carnegie Mellon Qatar  |  School of Computer Science  |  Robotics Institute
---