West Coast Campus to Offer New Degree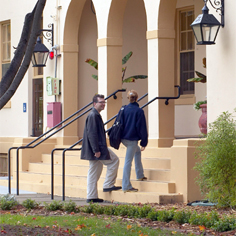 The field of software engineering is in a state of transition due to increased globalization and outsourcing. To meet growing industry demands, Carnegie Mellon West is launching a master's program for software management.
"The rise of the global economy has shifted the emphasis of software engineering," said James Morris, dean of Carnegie Mellon West. "Our students, and their employers, want a curriculum that more accurately and fully addresses the business issues of software. The cross-training in this program gives our students the perspective and contextual understanding they need to recognize and seize opportunities in the global market."
Jaroslaw Wilkiewicz, a senior software engineer at BEA Systems, is planning to enter the new program in the fall.
"Taking my career to the next level requires an understanding of software business issues that transcend engineering," said Wilkiewicz. "I was looking for a graduate program that integrates advanced technical education in software engineering with management courses offered by a top-tier university. That's exactly what I found at Carnegie Mellon West."
Martin Griss, associate dean of education at the West Coast campus, acknowledges globalization and outsourcing as facts of life.
"They're not good or bad," said Griss. "Our educational system simply has to recognize these facts and fold them into the curriculum."
Griss added that Carnegie Mellon's curriculum is evolving in a number of ways to reflect the new, global reality.
"Our goal at Carnegie Mellon West is to lead that evolution," Griss explained, "helping to ensure that organizations have access to technology education that will help them thrive today and tomorrow." 
Related Links: Carnegie Mellon West  |  Apply Online
---